I've recently bought a 'new' Victorian brass and iron bed and the experience has been a real eye-opener.
These are not rare objects. However, I found sourcing the right antique bed one of the most difficult purchases I've ever made!
So many old beds are either in poor condition, messed about with or are so elaborate you would spend most of your time cleaning the brass.
Here's a brief history of these beds, what to look out for when buying one and how to restore it.
The Victorian brass and iron bed – its history
The Victorians fell in love with brass and iron beds – or 'French' beds – in the second half of the 19th century.
They were cheap to make, washable and could be easily moved on their castors to allow for thorough bedroom cleaning. At a time when killer diseases were rife and child mortality rates were high, this was a godsend.
Birmingham manufacturers made most English beds, including the celebrated manufacturer Hoskins and Sewell which made beds for the Titanic.
The more expensive versions had 2-inch posts, painted porcelain or mother of pearl details, and elaborate 'vase' shaped knobs.
Top of the range 'Italian' beds had half tester posts, allowing the bed sides to be draped in lace.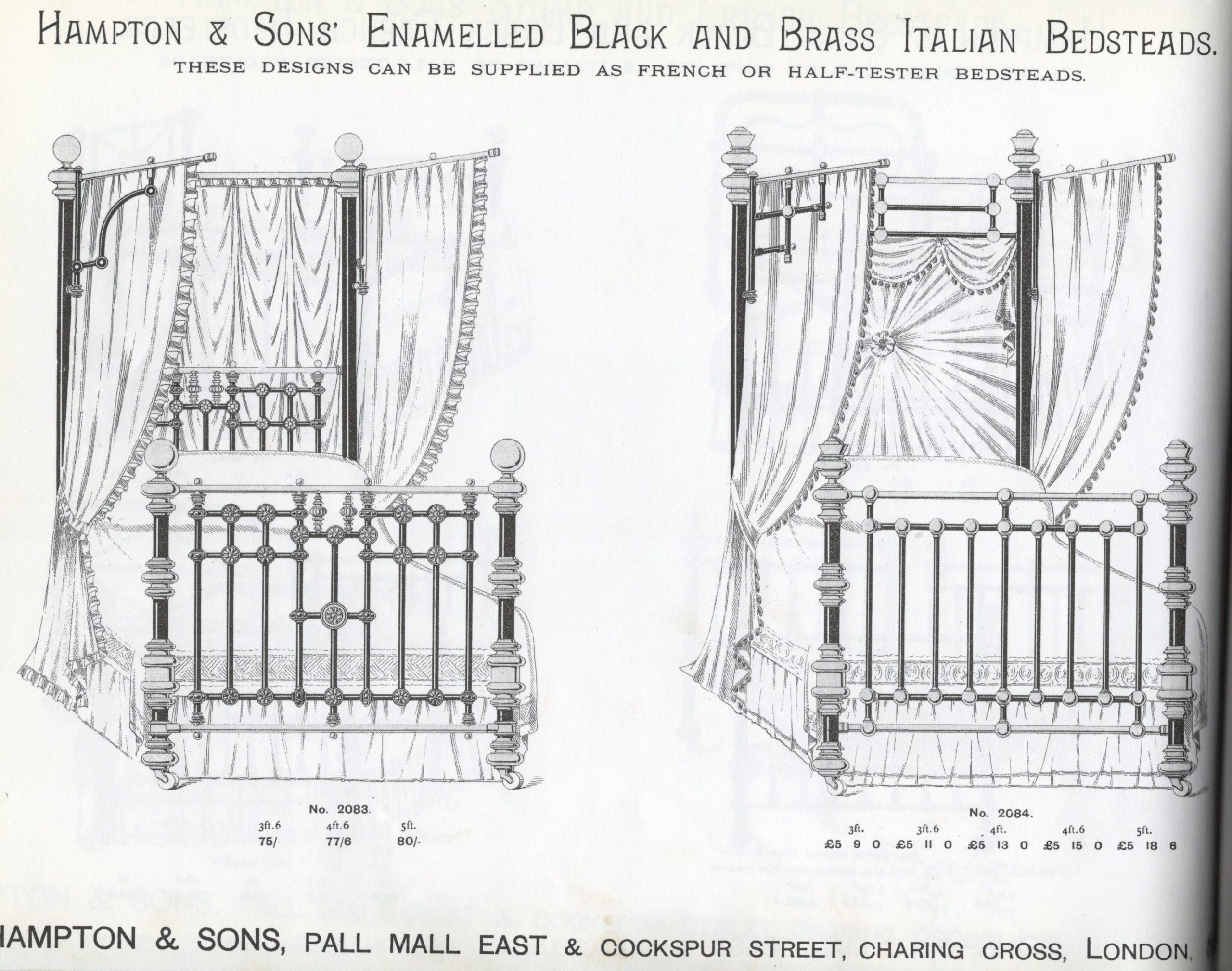 Iron beds became a lot plainer in the 1900s, and often came with square posts or smaller 'Chinese' brass caps instead of bed knobs.
All things Victorian became unpopular after the First World War and wooden beds regained popularity again.
Iron beds became the preserve of the hospital setting until the 1980s Victorian revival.
The Victorian brass and iron bed – what to look out for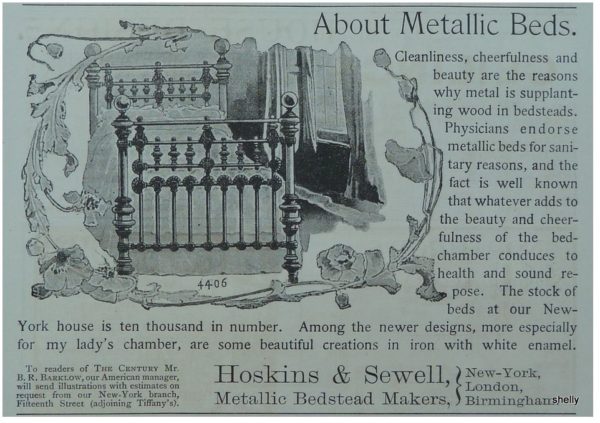 If you want a Victorian bed that retains it originality and fits in with your period home, look out for the following.
Castors
All antique iron beds originally had either wooden or porcelain castors. Unfortunately, many antique dealers cut these off in the 1980s as they left marks on bedroom carpets.
Newsflash – iron bed posts without castors will still make carpet marks! I can single-handedly move my beds around the room on their castors – what's not to like?
Replacement brass fittings
The modern buyer likes perfection. Therefore, many dealers overs the years have replaced dented knobs on old beds to make a higher profit.
Some beds I have seen have had all their brass fittings replaced. It's not difficult or expensive to do – MQ Metalwork is one online supplier.
In my opinion, buying a Victorian bed with new brass fittings defeats the object of having an antique bed.
New brass can also be thin and tinny to the touch, too bright in colour and lacks character.
Replaced sidebars
Look out for altered sidebars.
I once bought a bed with sidebars which retained the 'jigsaw' ends welded on to a new steel angle.
Unfortunately, this was done badly and meant the bed stood crooked.
So be warned!
French beds
At first glance antique brass and iron beds that were actually made in France look like English 'French' beds.
However, the mattress sits a lot closer to the ground – around eight inches on a French bed compared to around 15 inches on an English bed. This may not be everyone's cup of tea.
You can also spot a French bed as the side rails don't have metal studs which held the original strapping to support a mattress.
The Victorian brass and iron bed – how to restore
You can buy many beds restored, which means they've been stripped and resprayed to give a perfect finish.
Country to Coast has a huge range of beds you can buy unrestored or restored.
Want to do it yourself? Badly chipped or flaky paintwork will need to be shot blasted for a better finish.
If not, fill any minor chips with filler, give it a good rubdown and spray it with an all in one metal paint like Hammerite.
Be prepared to use a lot of spray cans if you are changing the colour radically like my bed photographed above!
Authentic colours
Manufacturers originally sold most iron beds in black enamel paint.
The cheapest beds had little or no brasswork and relied on gold painted detail and transfers to give the illusion of 'bling'.
My article on marbling, woodgraining and linoleum discusses the Victorian love of paint effects.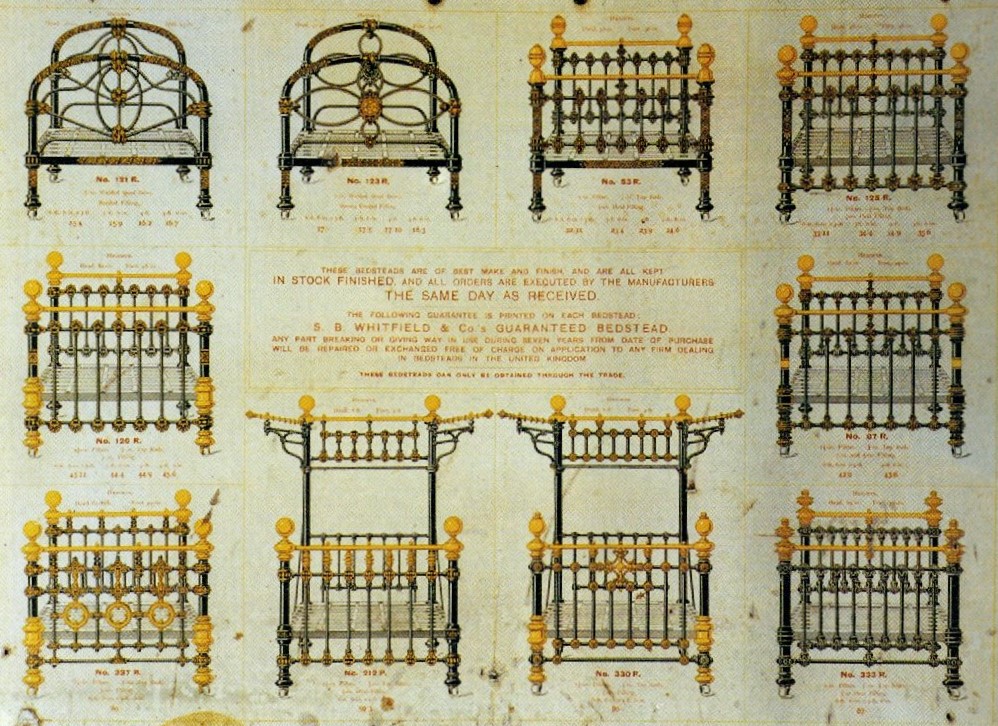 Surviving original paintwork is rare and should be retained where possible.
I recreated the gold detail on my bed, including the gold collars on the posts using masking tape and gold spray.
However, the middle-classes often opted for white enamel beds in the 1890s and 1900s when bedroom furniture in this finish was fashionable.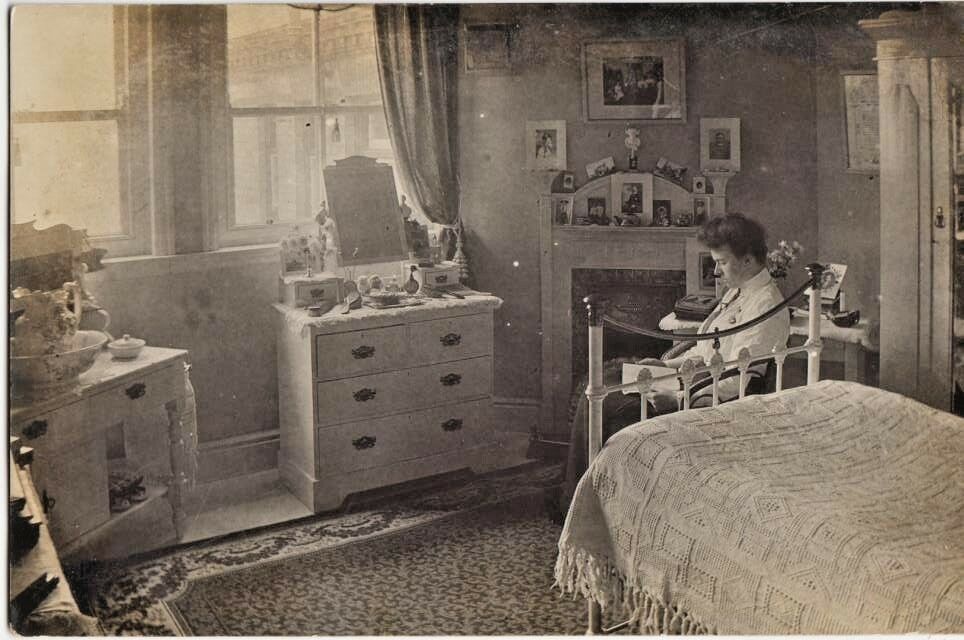 Likewise, other catalogues of the period promote iron beds in 'art colours' at an extra cost, which were invariably fashionable vivid colours such as emerald green.
Please follow and like us: