Many people assume I live like a Victorian with no modern conveniences like a TV, central heating or a fridge freezer.
I couldn't think of anything worse!
It's cold enough living in a Victorian house with central heating, so I'd hate to survive without it!
Beside, life is too short not to make the best of the modern world which you can sensitively hide with a bit of creativity.
Here's how to hide modern conveniences in the 21st century in your period house.
Electric fantastic
Flatscreen technology means the TV no longer has to dominate your living room.
Cupboards are key to hiding these screens.
Many Victorian houses have floor to ceiling alcove cupboards in their back living rooms.
Likewise, Victorian parlours often have a built-in waist-height alcove cupboard which was originally used as a bookcase.
If you don't have these features, a good joiner can make one up.
You can easily store your electrical appliances in these cupboards – you just need a good electrician to fit plug sockets and the necessary wiring inside.
Also see my blog on antique lighting to find out about sympathetic lighting for the period home.
Chilling out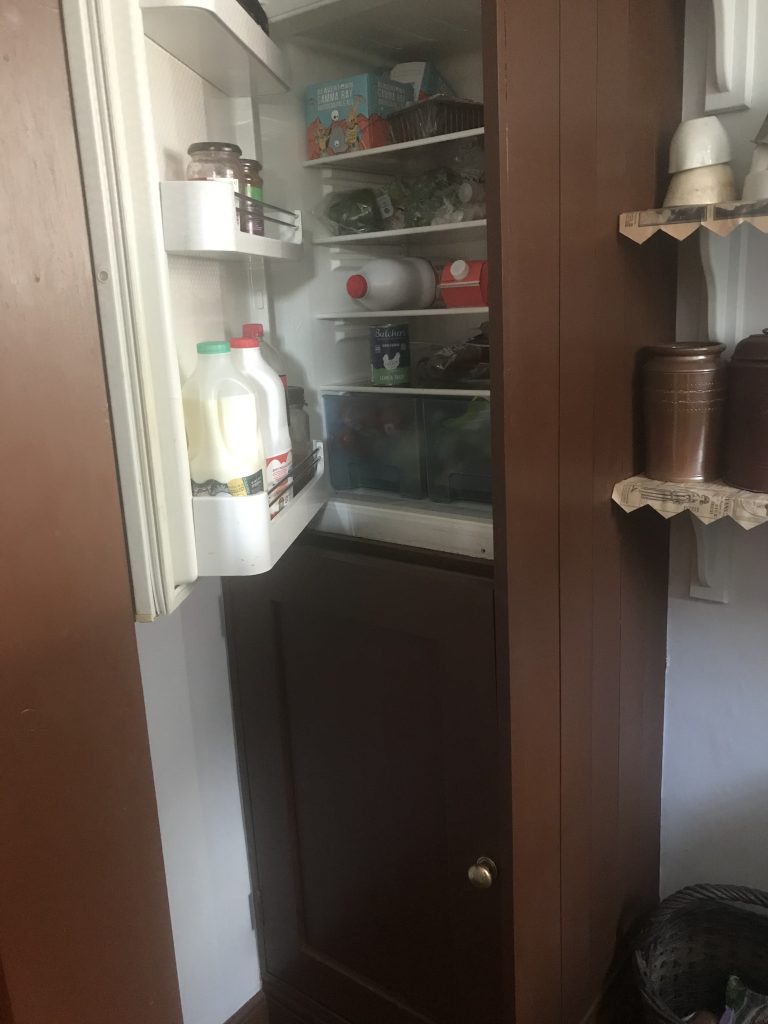 Built-in fridge freezers designed for modern kitchens can easily be adapted to take on the appearance of a period cupboard.
I commissioned a good carpenter to make panelled doors to conceal my fridge freezer in my pantry.
These have chains attached to the fridge and freezer doors to prevent you opening two doors to get to your food!
The exposed side has been tongue and groove panelling to make this look like a Victorian cupboard.
Modern conveniences – the final curtain
The Victorians loved a curtain to hide features what they saw as unsightly such as fireplaces.
This trend continued into the 1940s where cotton curtains would hide kitchen items stored under a butler sink.
I continued this trend with a curtain hiding my washing machine in the kitchen!
See my blog on the Victorian kitchen for advice on getting the period look in the kitchen.
Drafty openings
We sometimes inherit openings between two rooms where a curtain would not effectively seal off drafts or noise.
It's not always appropriate or functional to install traditional doors within these openings, particularly if space is a premium or in a listed building where major alterations are not possible.
Pocket Door Shop offer a sliding door gear systems which don't intrude into a room or require major fixings in the wall.
They come in wood or glass so they don't detract from a historic home's interior.
The timber systems are a track only solution, allowing you to use a reclaimed period door as an option.
If you're creating an opening and you have the wall space, Pocket Door Shop also offers sliding doors which can be hidden within the walls.
Modern conveniences – hot topic
I have period cast iron radiators in my house for central heating.
A local reclamation yard sold them to us tested and shot blasted for around £150 each, but this was around 15 years ago! The biggest issue was getting them up the stairs.
To be clear, very few houses had central heating in the UK until the 1970s.
The old radiators you often see for sale in reclamation yards are usually from old public or industrial buildings. However, they do look more appropriate in old houses than modern versions.
It is very fashionable to make these radiators a feature by painting them in bright or metallic paints. However, I try to make them blend in with the room by painting them the same colour as the walls or woodwork.
Reproduction cast iron radiators are available but they are more expensive.
You can still 'hide' modern radiators by painting them the same colour as the walls.
Please follow and like us: