Reinstating a Victorian fireplace can help bring back the character to your period home.
It's also a joy to know you've put back a feature similar to the original fireplace sadly ripped out years before.
However, it can be difficult to work out what the original fireplaces were like in your house.
Don't make the mistake I did when I moved into my house by buying a load of reclaimed fireplaces thinking they would be right with little research or investigation.
The clues are there if you do some detective work around your bricked-up fireplace openings!
Here are my tips for deciding the most appropriate fireplaces for your home.
Reinstating a Victorian fireplace – choosing the right period
If your home is over a hundred years old some rooms may have had two or three fireplaces over the years.
The Victorian owners of my 1856 cottage massively renovated its exterior and interior in the late 1880s.
There are signs that the only remaining chimney breast from this period once housed a Georgian-style hob grate until it was replaced with a more energy-efficient late Victorian fireplace.
I didn't reinstate the original fireplace in this room as the whole space had been significantly altered at a later date.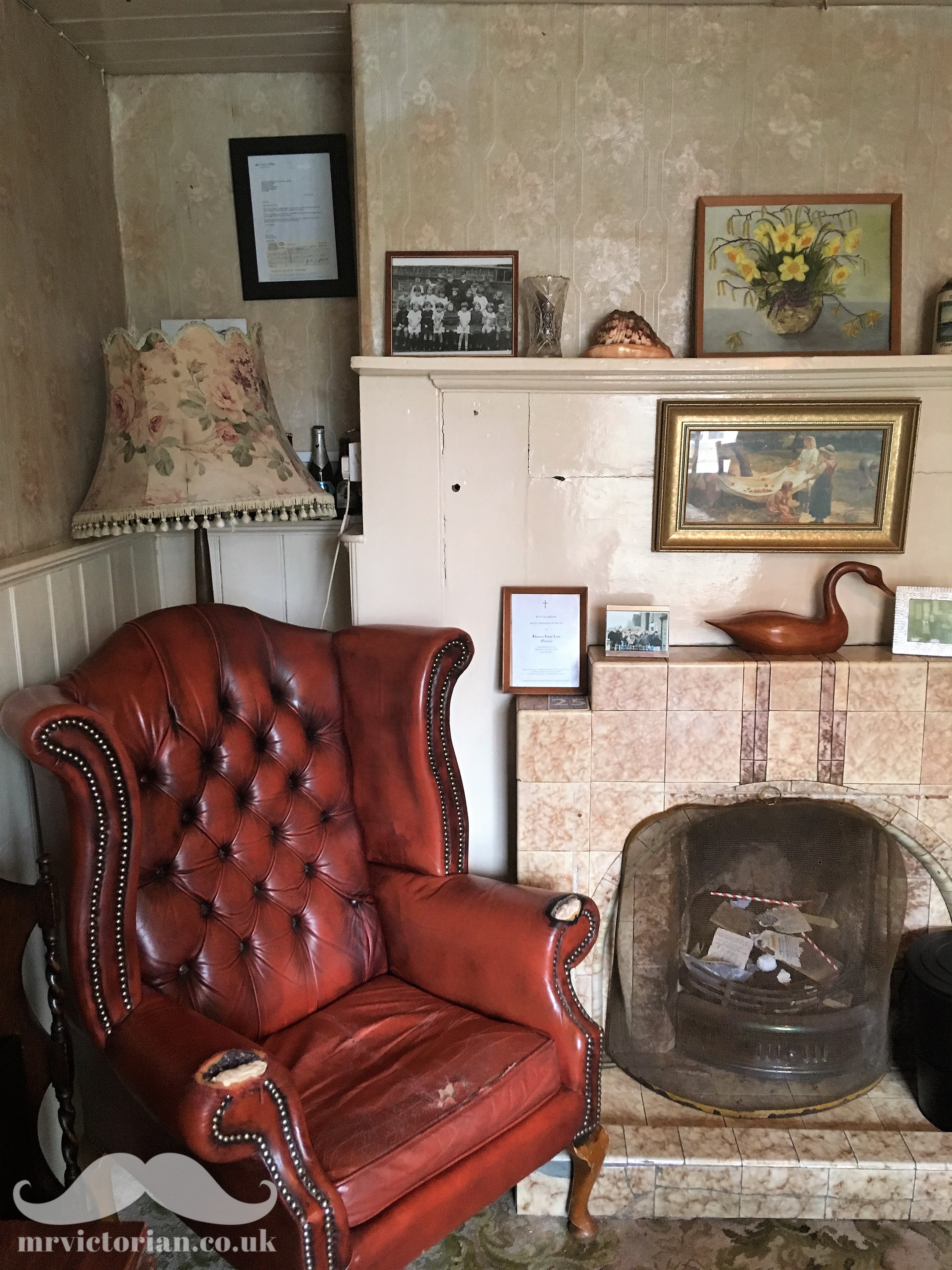 Likewise, Art Deco style tiled fireplaces may have replaced cast iron fireplaces in your home when they fell out of favour in the 1930s, particularly in the main living rooms.
Significant developments in design and technology often dictated these changes. Therefore, a homeowner wouldn't have replaced an ornate 1890s fireplace with a similar version in Art Nouveau style in the 1900s!
There are a wide range of antique fireplaces available on Ebay and from architectural salvage dealers for your home.
Reproduction fireplaces don't offer the variety of styles and sizes that were available to your home's builders.
Likewise, reproduction tiles often don't match the patina and hand-painted detail of original versions.
Reinstating a Victorian fireplace – delving deep
Before looking for a fireplace remove the plaster from the lower half of your chimney breast to see if you can see any evidence of a previous fireplace.
This will make your room look a mess for a while but at least you're not buying your replacement fireplace blind.
You'll need to replaster around the fitted fireplace anyway for an authentic finish. My pet peeve is that so many people just screw it to the wall!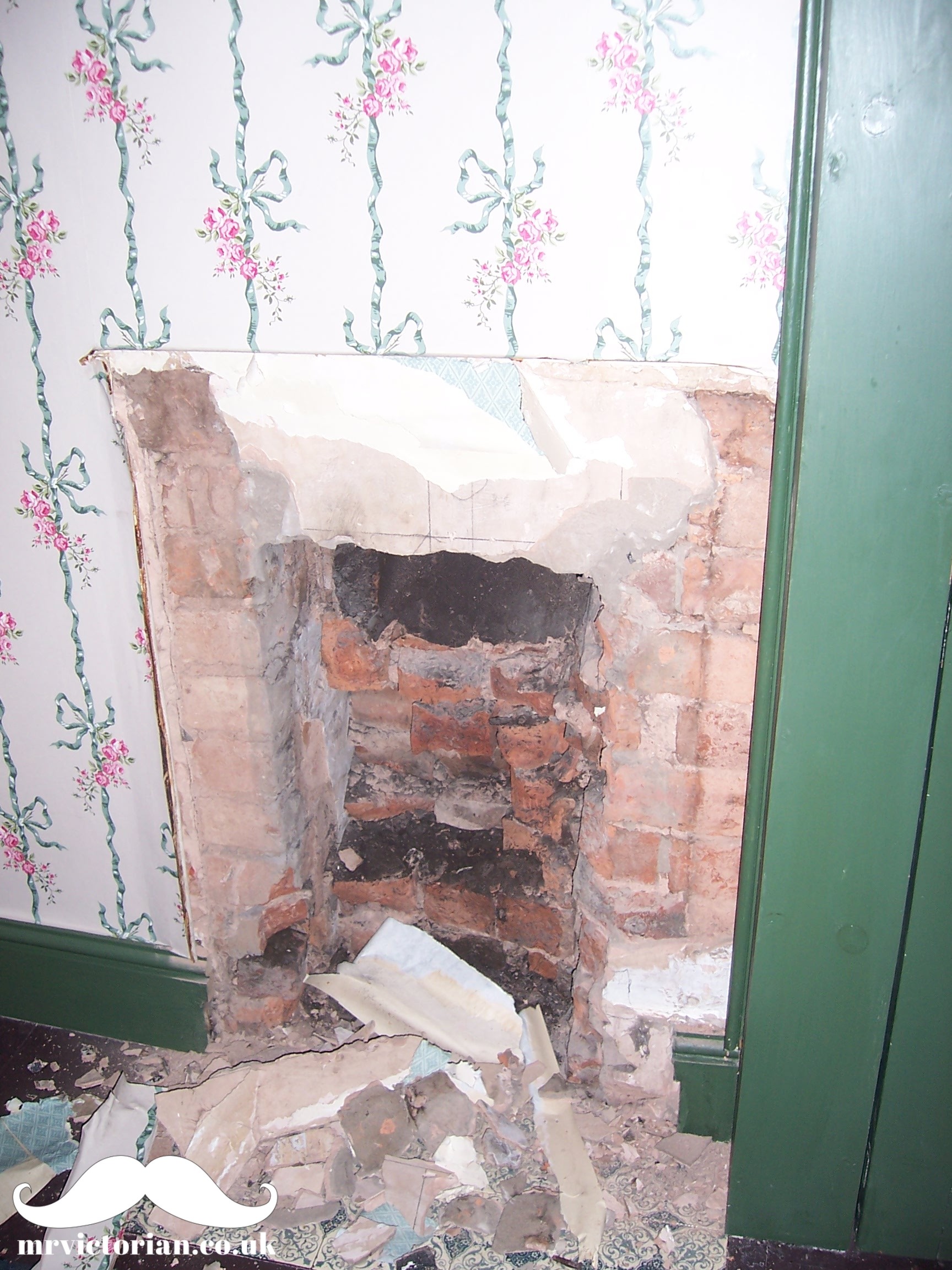 It's likely the fireplace opening will be small in a bedroom. However, wider openings (24 inches or more) suggest it may have had a wider cast iron insert with a separate surround.
Likewise, deep chimney breasts in kitchens and former sculleries will have particularly large openings to house cast iron ranges.
I was lucky to see the outline of the original fireplaces in my smaller bedrooms so I purchased fireplaces of similar sizes and outlines. Many antique fireplace dealers give you the dimensions of their fireplaces on their website.
If the outline isn't clear, it's likely you'll see two bolt holes in the brickwork that fitted the fireplace to the wall. These would've been just below the mantlepiece and give a good indication of the original fireplace's width and height.
Otherwise, you may find two iron or lead hooks which held the upright parts of a separate surround as I did in my main bedroom.
Reinstating a Victorian fireplace – the hearth of the matter
The original flush hearth will also give you some clues and may be under a 1930s raised tiled hearth.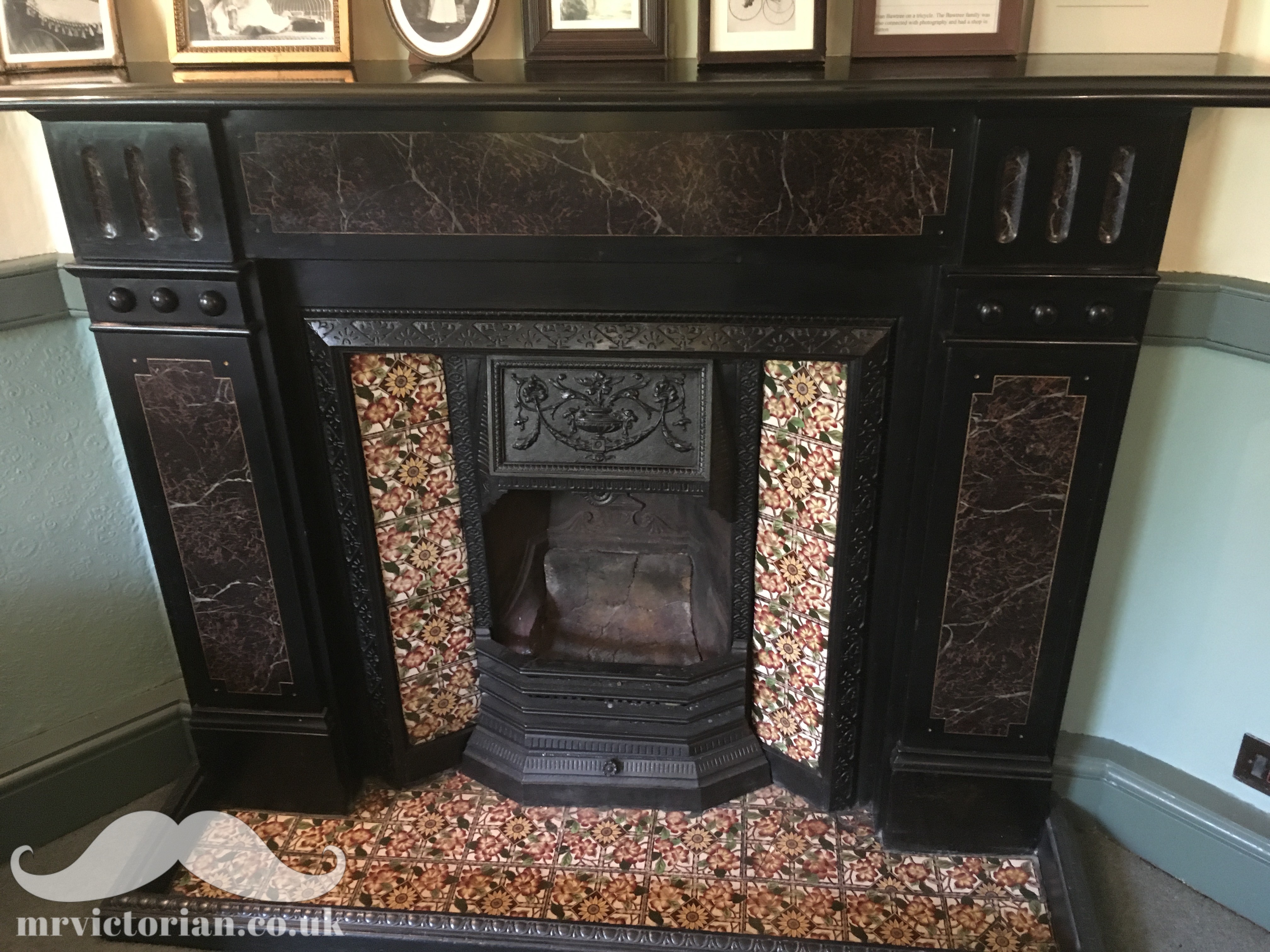 Smaller bedroom fireplaces were often positioned to one side of a chimney breast to make room for the main downstairs chimney flue.
These fireplaces tended to have hearths made of stone or concrete.
It's likely there would have been a tiled fireplace if there are signs of a flush tiled hearth, particularly if the opening is large.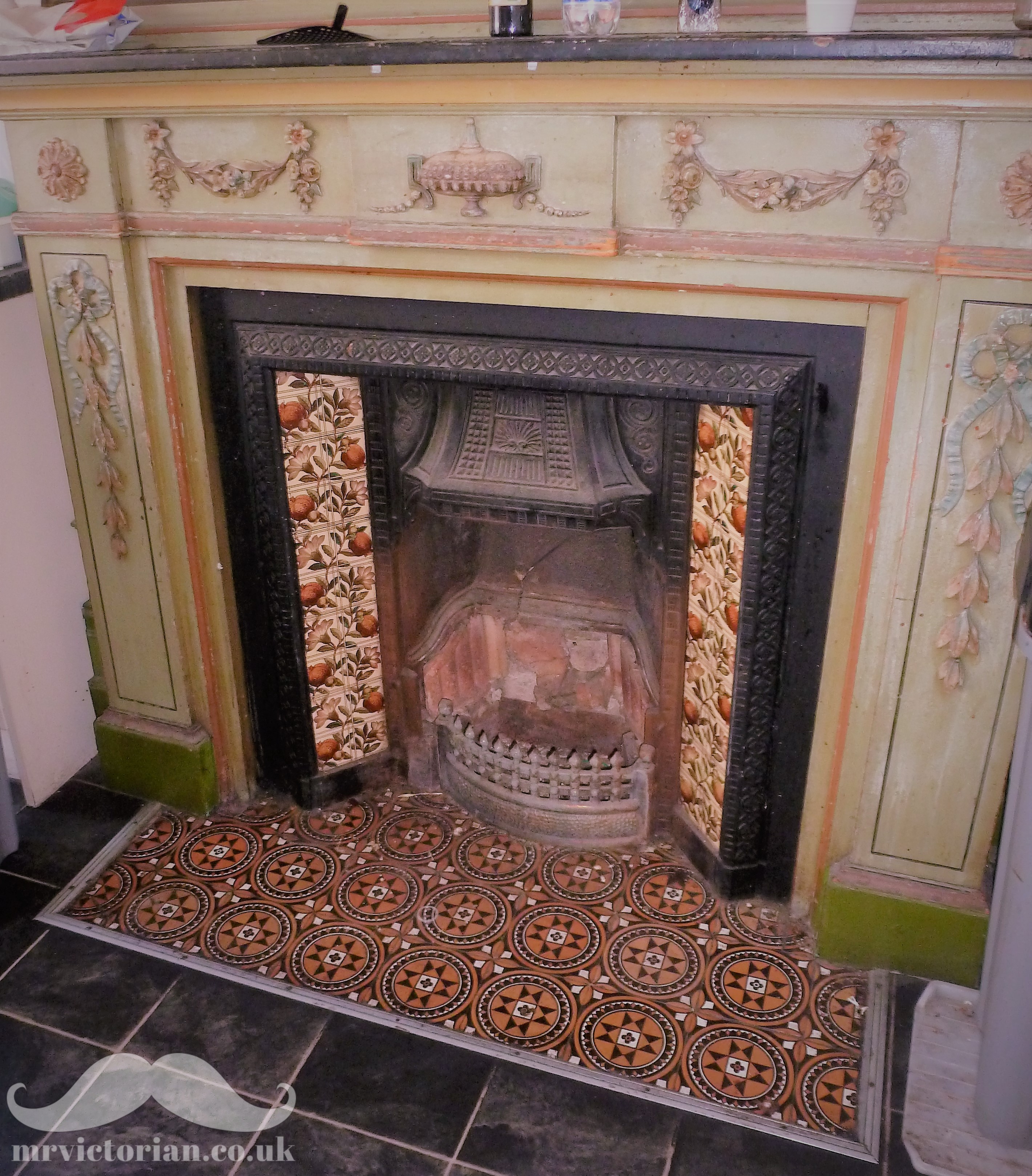 The design of the hearth tiles may also give you clues what the fireplace tiles were like:
floral tiled fireplaces of 1890 to 1910 often had matching hearths
plain coloured tiled fireplaces of the Edwardian period often had brick-style rectangular hearth tiles of the same colour
darker coloured six-inch tiles are not an indication of the original fireplace tiles as these were chosen to hide dust and cinders rather than match the fireplace
three-inch or rectangular mottled or iridescent tiles are likely to be from a 1930s tiled fireplace with no iron detail.
A large number of original floral tiles survived in my main bedroom's fireplace hearth. So I found 14 tiles of the same design on Ebay for the fireplace and missing hearth tiles.
The Victorians often positioned hearth tiles around the fireplace so their layout could give you clues about the width and shape of the original insert.
Reinstating a Victorian fireplace – opening up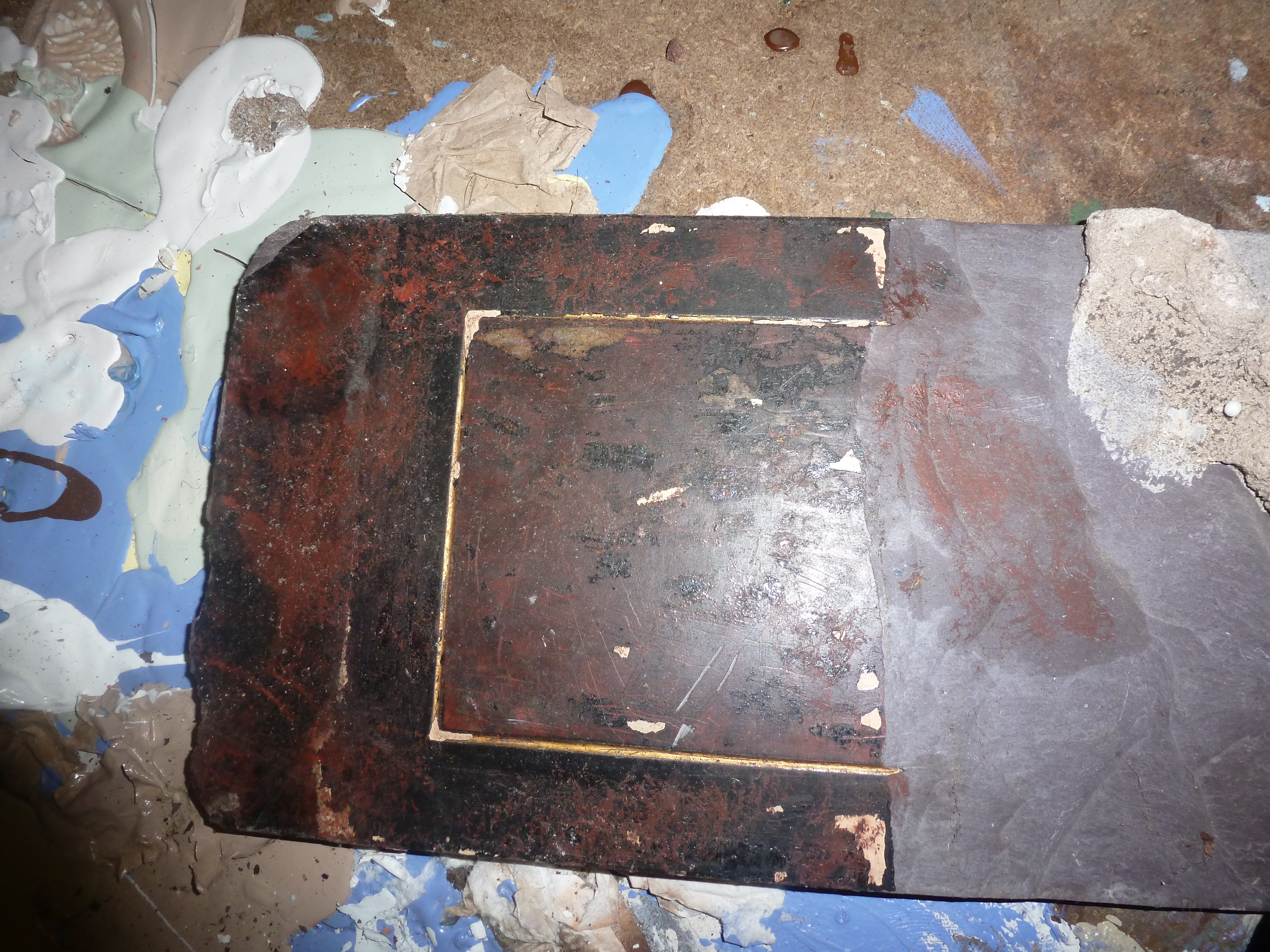 You may be lucky to find remnants of the previous fireplace inside the bricked-up opening.
I found my main bedroom's slate surround smashed up as hardcore in the opening, so I knew the colour and design to help me find a similar replacement.
Reinstating a Victorian fireplace – design is key
Fashions have always dictated fireplace designs. Whilst Victorian fireplace catalogues show some designs were available for over 50 years, most householders and developers went along with the latest fashion when purchasing their main fireplaces.
It is worth looking at architectural antique sites as they often give estimated dates of their fireplaces for sale. Also, many iron fireplaces come with a registration stamp which dates when it was first designed.
These are the key trends:
1830 to 1850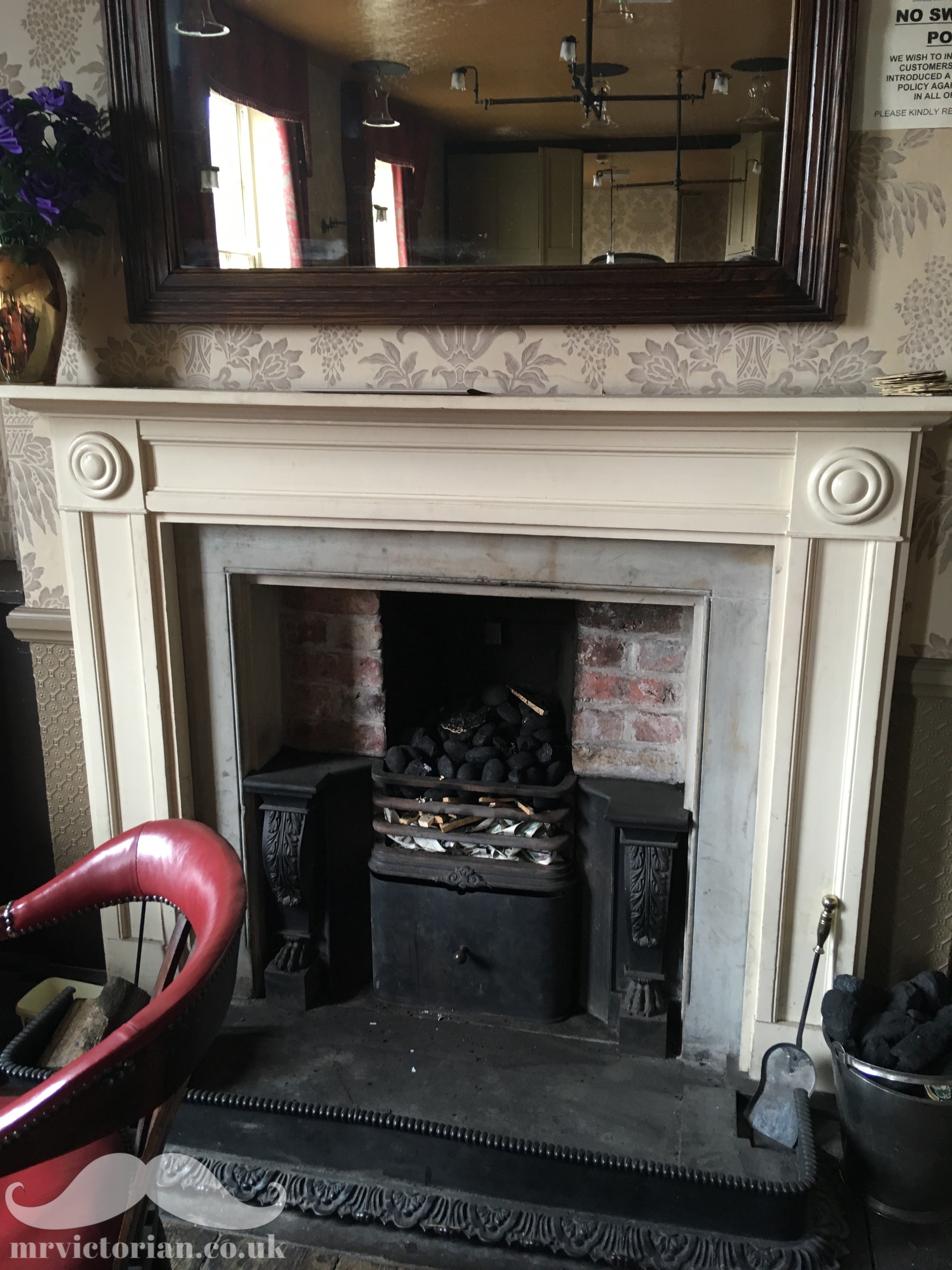 Hob grates were the most popular with wooden, stone or marble surrounds. These varied in size according to the size and status of the room.
Horseshoe-shaped grates were also popular in drawing rooms at the end of this period.
1850 to 1880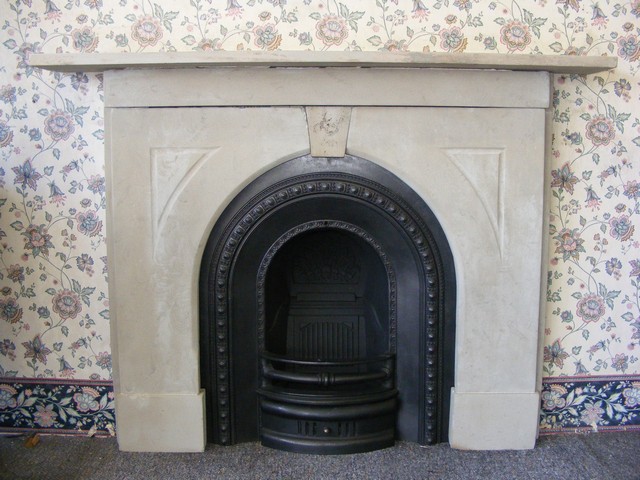 Arched register fireplaces were all the rage during this period and were more energy efficient than a hob grate. As before, they either came with stone or marble surrounds in the main living rooms. Bedrooms tended to have smaller fireplaces with wooden surrounds.
All-in-one iron fireplaces without a surround became more commonplace in bedrooms during the period.
1880-1900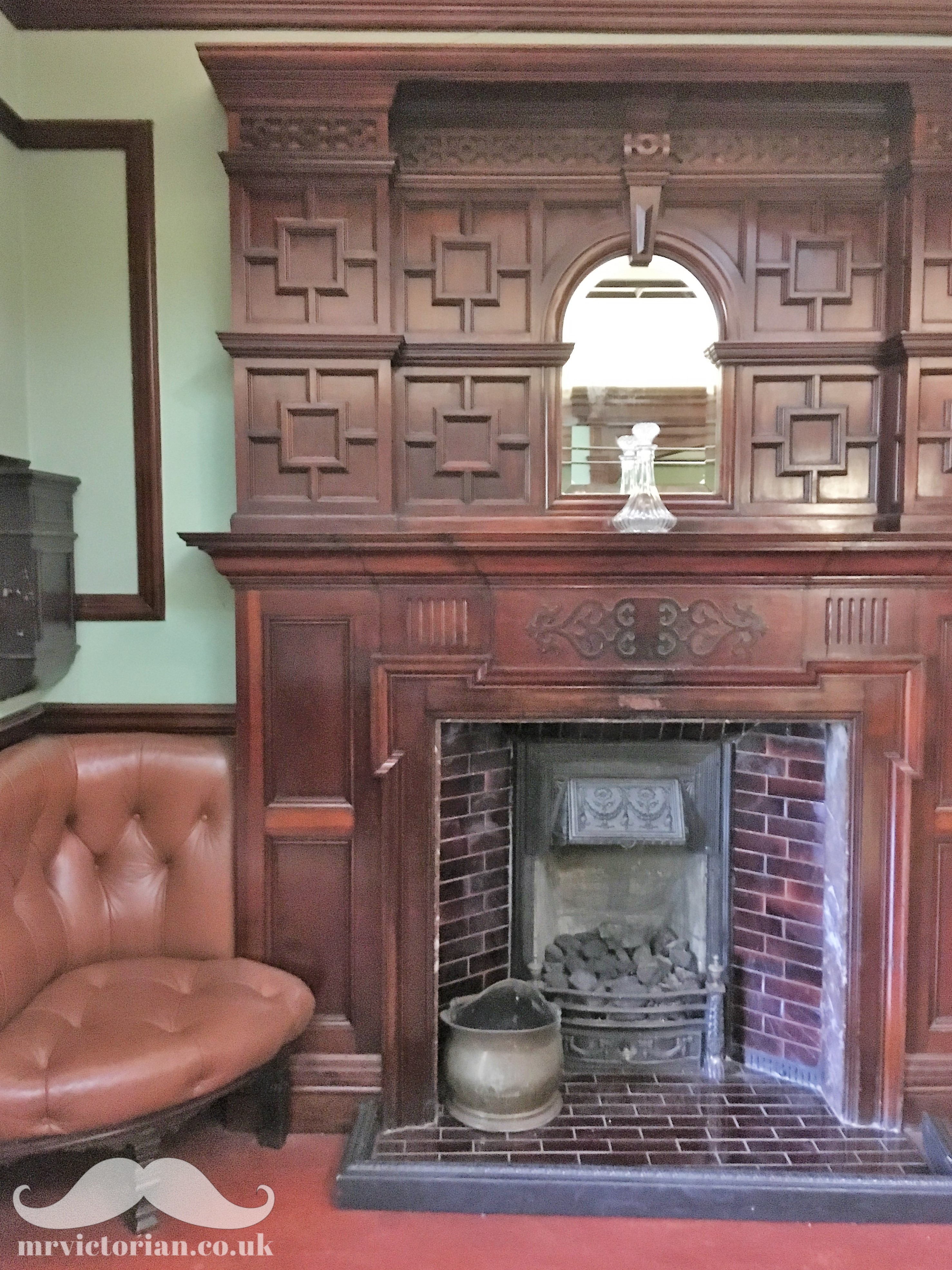 Tiled register grates with tiled hearths were the must-have for reception rooms and large bedrooms in late Victorian houses.
Fireplaces began to have hoods to reduce smoke in the room and featured ornate cast detailing. Sunbursts, fruit and flowers were common designs.
Slate surrounds with painted marble designs were an affordable alternative for working and middle-class parlours. Upper middle-class homes could afford fashionable oak or white painted surrounds with mirrors and shelves in their reception rooms.
1900-1920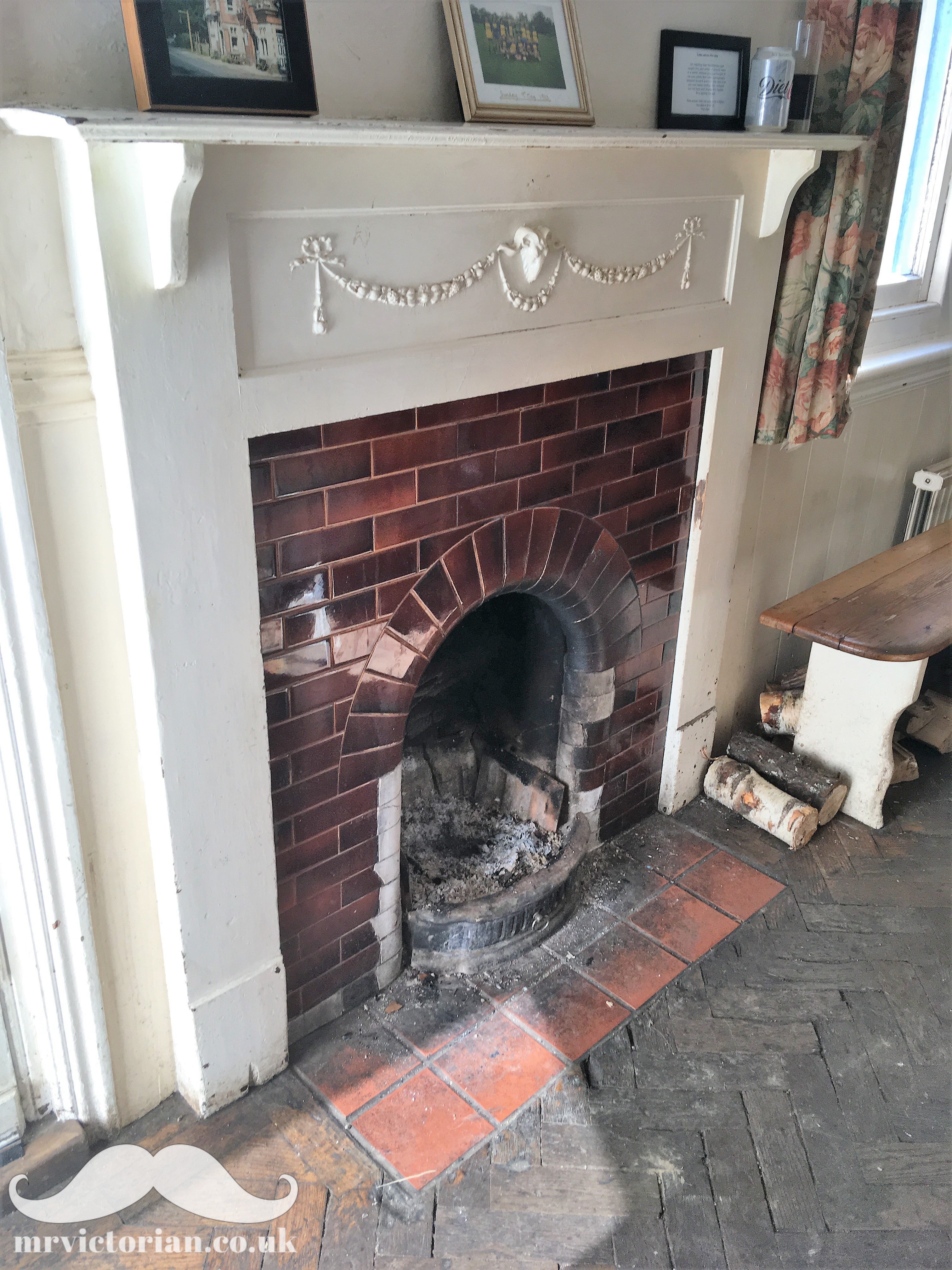 Clean lines and Art Nouveau motifs swept away ornate iron castings of the previous two decades.
Transfer printed floral tiles fell out of fashion in place of relief tiles with symmetrical Art Nouveau flower motifs or plain coloured tiles.
Completely tiled inserts with wooden surrounds became popular in this period, paving the way for all-tiled fireplaces of the 1930s.
Reinstating a Victorian fireplace – status is everything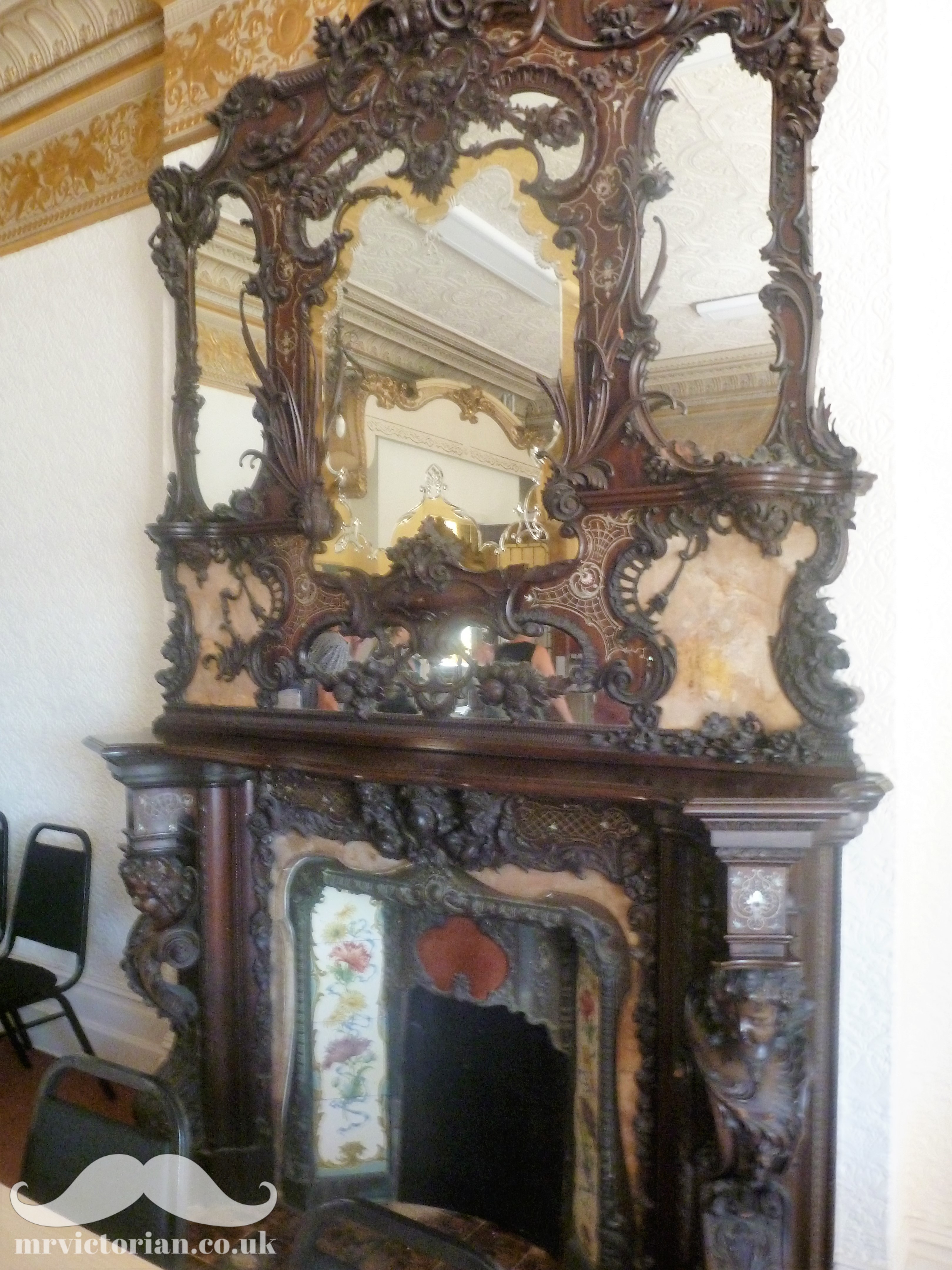 The status of the home usually dictates the design and materials of its fireplaces.
Larger Victorian and Edwardian houses tend to have marble surrounds in the main living rooms and larger bedrooms. Small bedroom fireplaces without surrounds were only located in servants' bedrooms in these homes.
Whereas, working class cottages would have only had one large fireplace with a separate surround in the parlour.
Upper-middle class houses with fashion-conscious owners often removed standard tiled or arched inserts to make way for a dog grate in the opening in Aesthetic Movement style.
Please follow and like us: