What comes to mind when you think of a Victorian kitchen? Knick-knicks, dark colours and fussy details?
Not something you want in your kitchen, eh?
However, whilst this was the case in Victorian living spaces, in domestic areas such as the kitchen this couldn't be further from the truth.
In fact, it was often the late 20th century homeowner who loved glass cupboards with leaded windows, ornate fittings and floral tiled walls!
In contrast, service areas of the Victorian and Edwardian era, which encompassed the kitchen, scullery and food storage areas, were simple and functional spaces focused on hygiene and easy maintenance.
Clean lines, exposed shelves and an absence of decorative features made the Victorian kitchen easy to clean – more in line with the modern minimalism approach of the 21st century.
Victorian kitchen – two types
Bear in mind that there were two types of kitchen around 1900.
Kitchens in poorer homes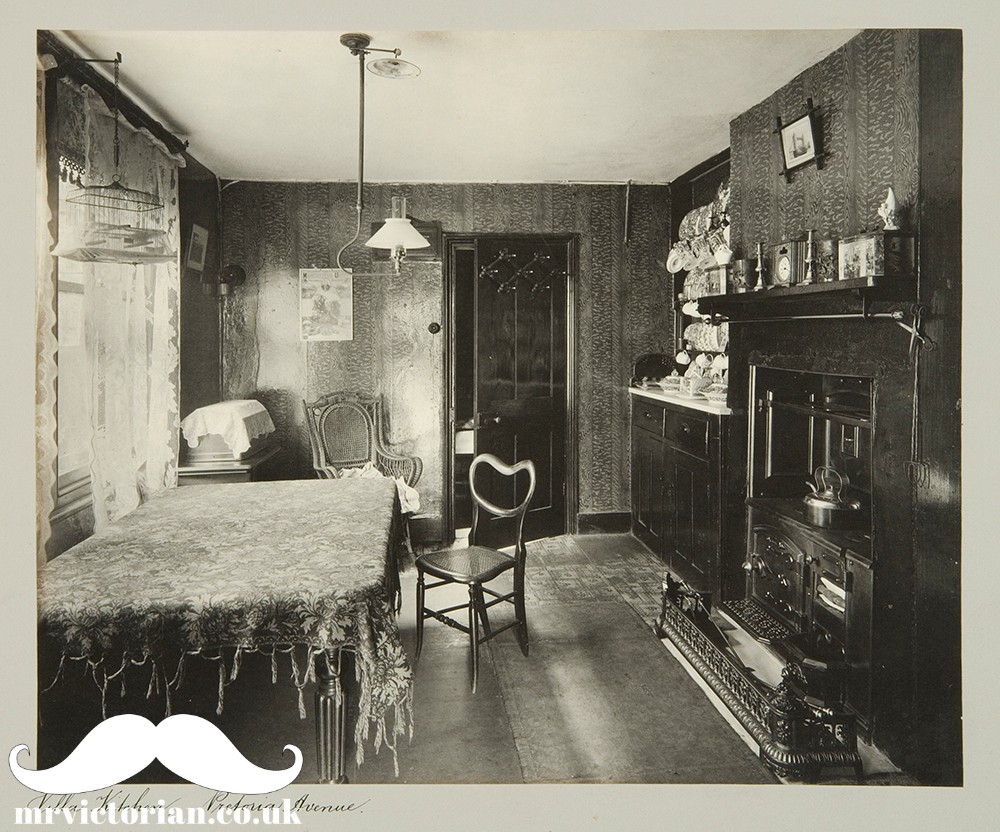 In working class and lower-middle class homes, the kitchen also served as an informal living and dining area for the family.
Therefore, the space was more decorative with sanitary wallpaper resembling wood panelling or floral tiles, and a print or two on the walls to brighten the room.
However, this is not something most people would want to replicate in their home today!
Kitchens in richer homes
In more affluent homes the kitchen was sparse and stark as only servants would use this room.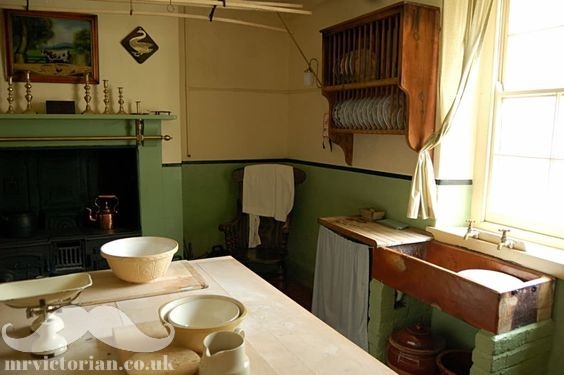 Similarly, poorer homes tended to reserve this simplicity for the scullery where they carried out messy work. The above image shows how simple and minimal these areas could be.
Victorian kitchen – inspiring the modern kitchen home
These kitchens may have been 100 years apart in construction, but clearly they show the past is still inspiring the present!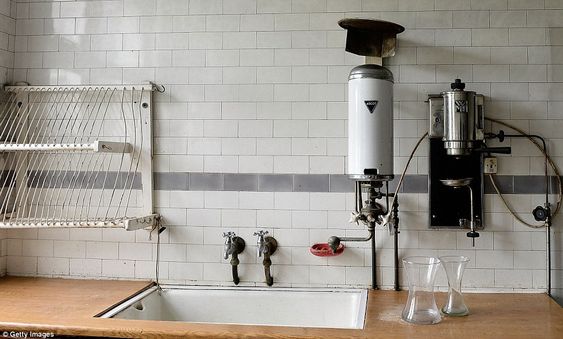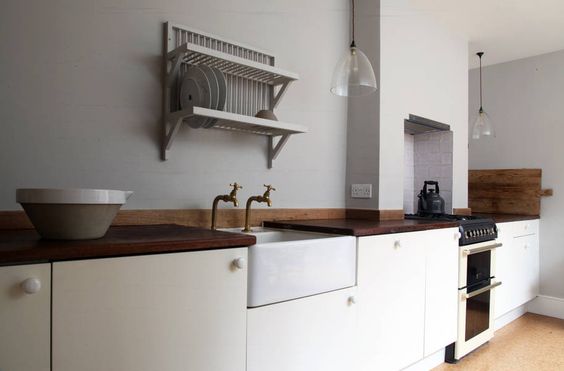 Victorian kitchen – top tips for the simple and functional style
Light coloured walls
Firstly, off-white or light blue matt walls replicate the light distemper paints commonly used in the 19th century and give a kitchen a cool and clean feel.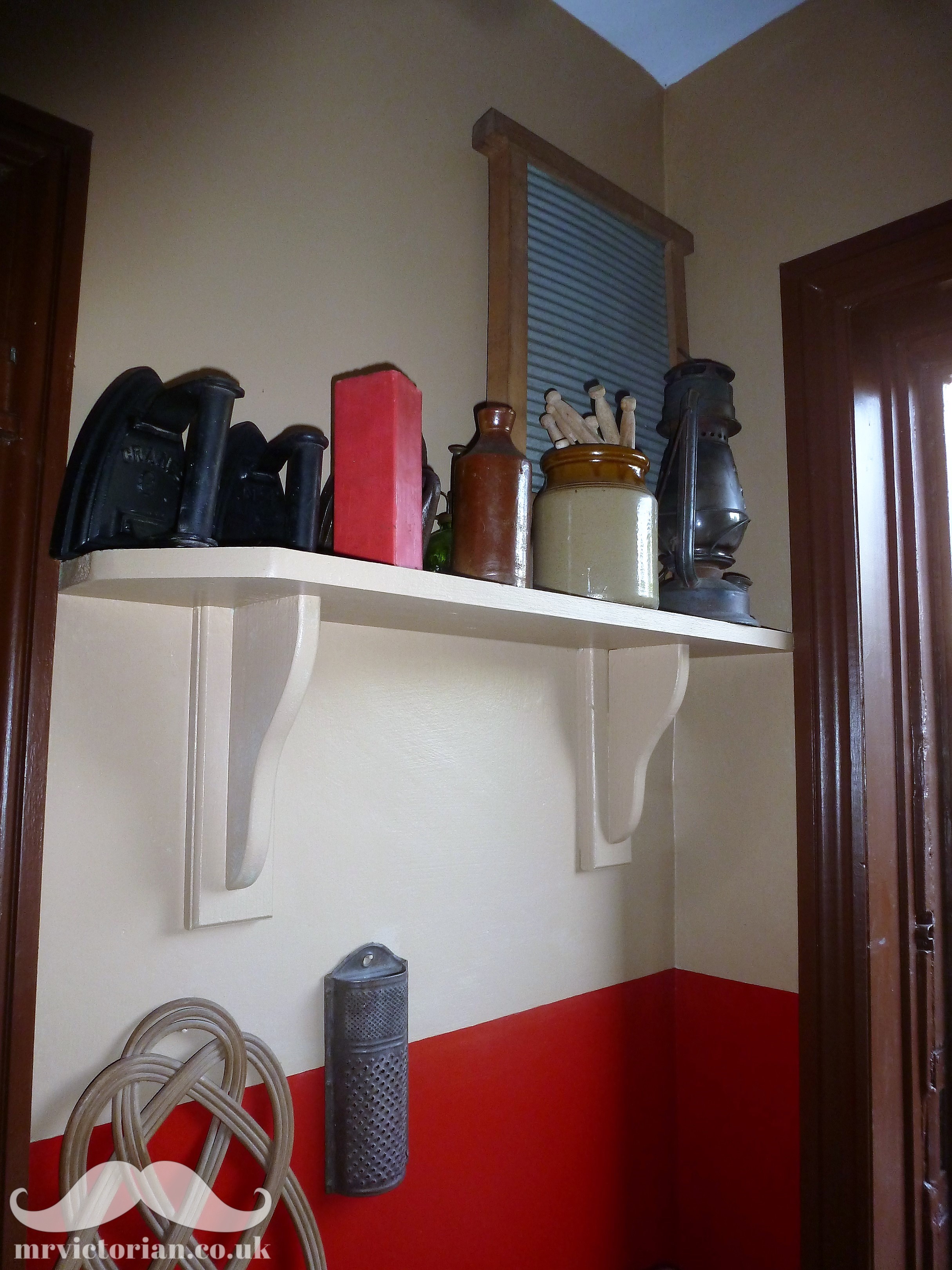 The Victorians also used light-stone coloured oil paint on walls in service areas for practicality and affordability (it was cheap and didn't yellow with smoke pollution), which can be replicated with modern eggshell paints.
Want a bit of colour? I found my scullery had a bright red painted dado (shown in photo above) around 1920 which adds interest to walls without tiles. Moreover, greens, dark reds and browns were also common dado colours for kitchens.
White wall tiles
Likewise, using plain white tiles laid in a brick-style layout is the only authentic option if you want extra durability on your kitchen walls.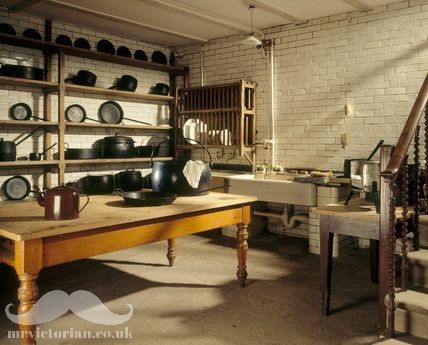 Reserve them as a splash back to worktops as floor to ceiling tiled walls can be a bit oppressive and clinical.
However, don't be tempted to go for Victorian-style floral tiles as these were the preserve of porches and fireplaces.
Butler sink and separate brass taps
You can't go wrong with this classic look. A combined hot and cold tap has a more modern feel, although this variation existed from the 1920s.
Be prepared to use Brasso on a regular basis on unplated taps, unless you like the tarnished look!
Wooden worktops
Although they might not be the most practical, wooden worktops are the only option for a period feel and gaining warmth and character. Oak or teak was the choice of the Victorian.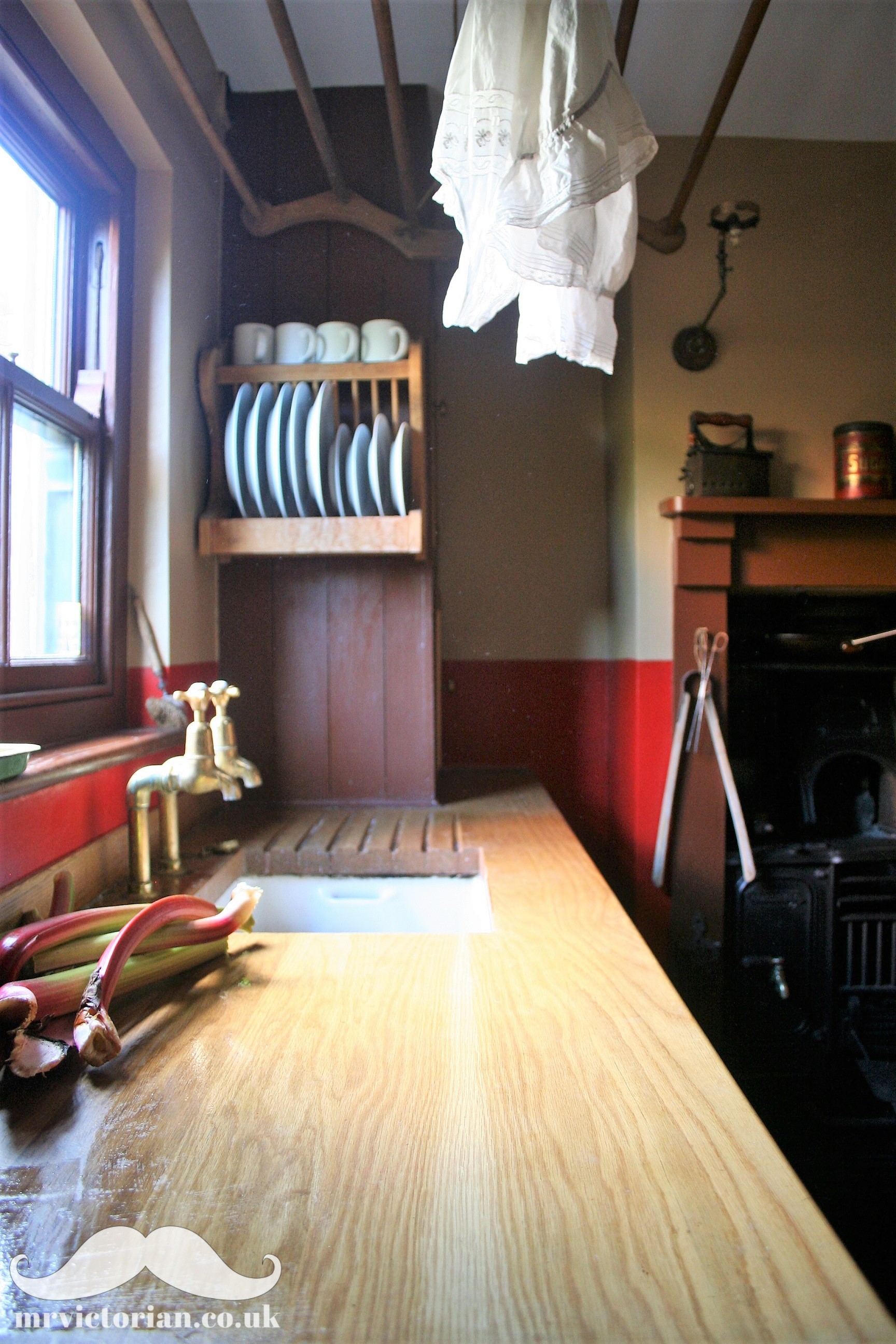 I had my tops specially made by a joinery business as the 'off the shelf' worktops online tend to be made of thin strips of wood, which gives them a more contemporary appearance.
Having used beech in my kitchen previously, it's more prone to water staining so best avoid!
Above all, avoid putting hot pans on wooden worktops and regularly oil them to prevent water damage.
Open shelving and plate racks
People of yesteryear used open shelving in kitchens for ease of access and hygiene as dust and dirt accumulates in cupboards.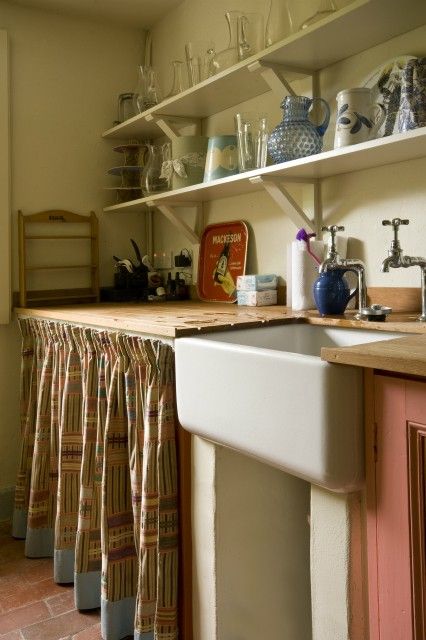 In addition, they are a cheaper option and make the kitchen seem bigger as eye-level cupboards narrow a room.
Consider painting the shelves the same colour if you are painting the walls in an eggshell or gloss finish to make your kitchen look larger. It's also an authentic approach as many Victorians wouldn't have gone to the effort of painting shelves a different colour in an area not seen by visitors.
The Victorians used plate racks in sculleries to allow plates to dry. However, I use my plate rack for storing everyday crockery for ease of access.
Simple cupboards
Simplicity is key when choosing your kitchen cupboards, so avoid doors and drawers with fussy details and beading. Cast iron 'cup' handles are an authentic and low-cost touch.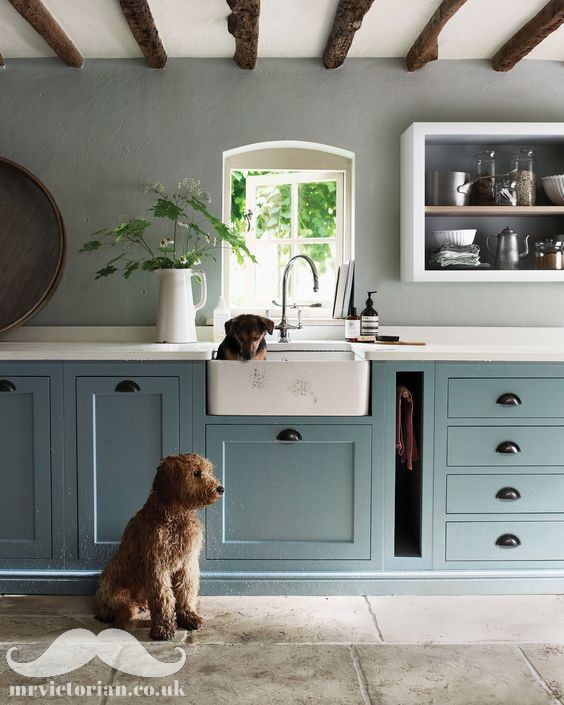 Look out for vintage or antique furniture that can be used for kitchen units to save money. For example, a large dresser base or a shop counter makes a great kitchen unit!
I was lucky to find Edwardian science lab cupboards costing £200 for my kitchen in an local newspaper advert. They are made superbly and a joiner integrated a butler sink into one end.
Make use of separate rooms
As I explained in my pantry post, make use of your original pantry or create an area to store food and utensils if you have enough space.
Similarly, a utility room to store away white goods and crockery like a scullery of yesteryear means you can make the most of your kitchen for cooking and eating without piles of dirty plates hanging about after mealtimes.
Quarry tile flooring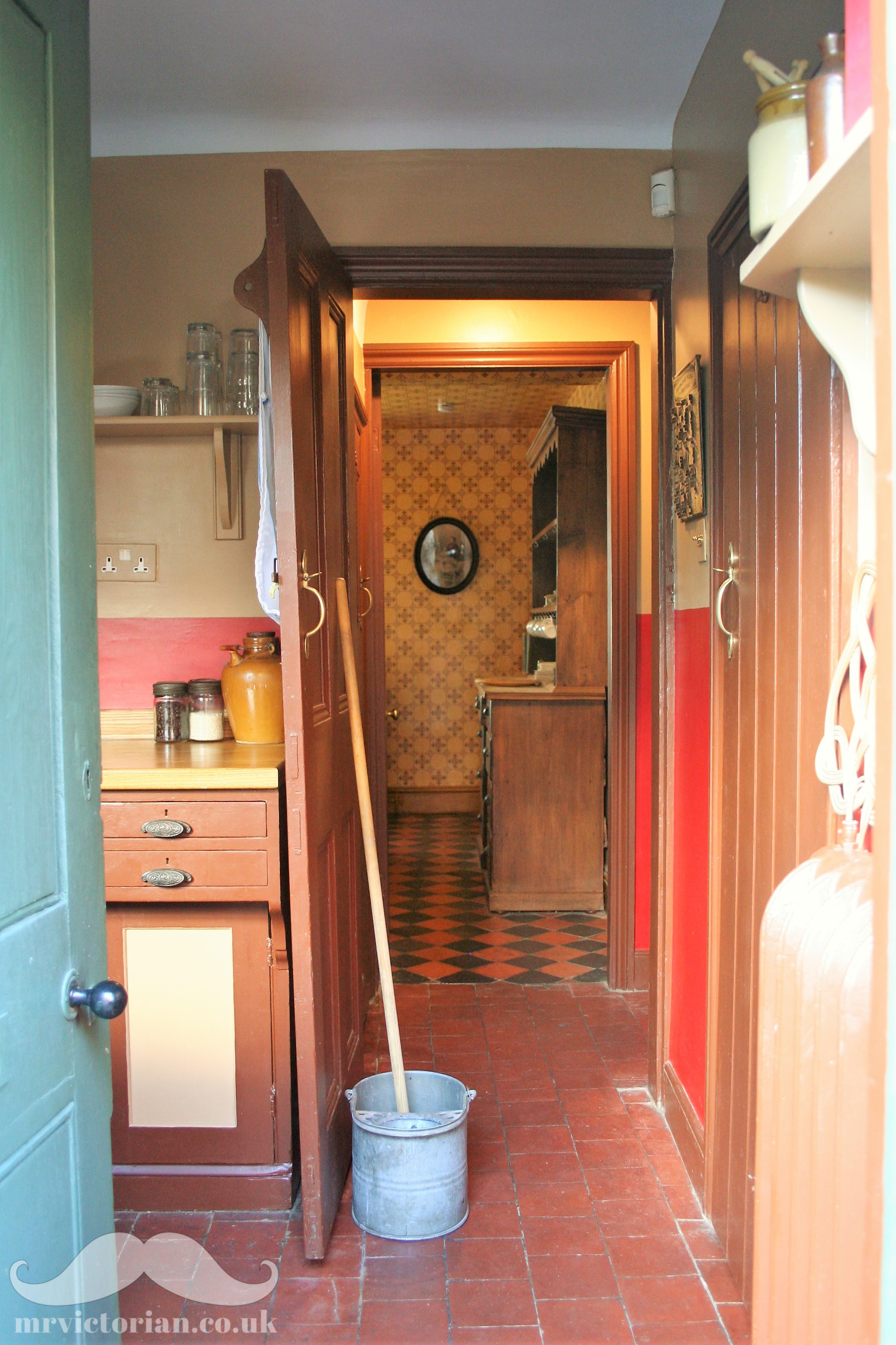 Finally, simple red six-inch quarry tiles were commonly used in kitchens of the Victorian and early 20th century period. They are very durable, low-cost and timeless.
I was lucky to find my original red tiles (see photo above) under concrete and modern tiles.
Alternatively, large stone flags are also an authentic but more expensive option.
Victorian kitchen – want more inspiration?
I've visited many preserved and restored kitchens in historic homes to get inspiration. The National Trust has countless properties across England, Wales and Northern Ireland with such service areas.
Alternatively, check out my Pinterest account with loads of images of historic and recreated kitchens.
Please follow and like us: