Forget the pandemic – 2020 was the year of the Victorian cast iron range for me.
I tend to be quite faddish with home restoration projects.
On a mission, I decided to pull out both ranges that I installed in 2004/05 in early 2020.
Little did I know I would spend the next six months looking at raw fireplace openings due to the lockdown!
I sourced and installed the first replacement ranges in my kitchen and scullery with little understanding of these fittings. You can see these in my virtual House Tour.
Regrettably, my only criteria was ensuring they fitted the original range openings.
It became clear that my house's original ranges were very different after studying the openings and seeking expert advice from range specialist Osborne Restorations.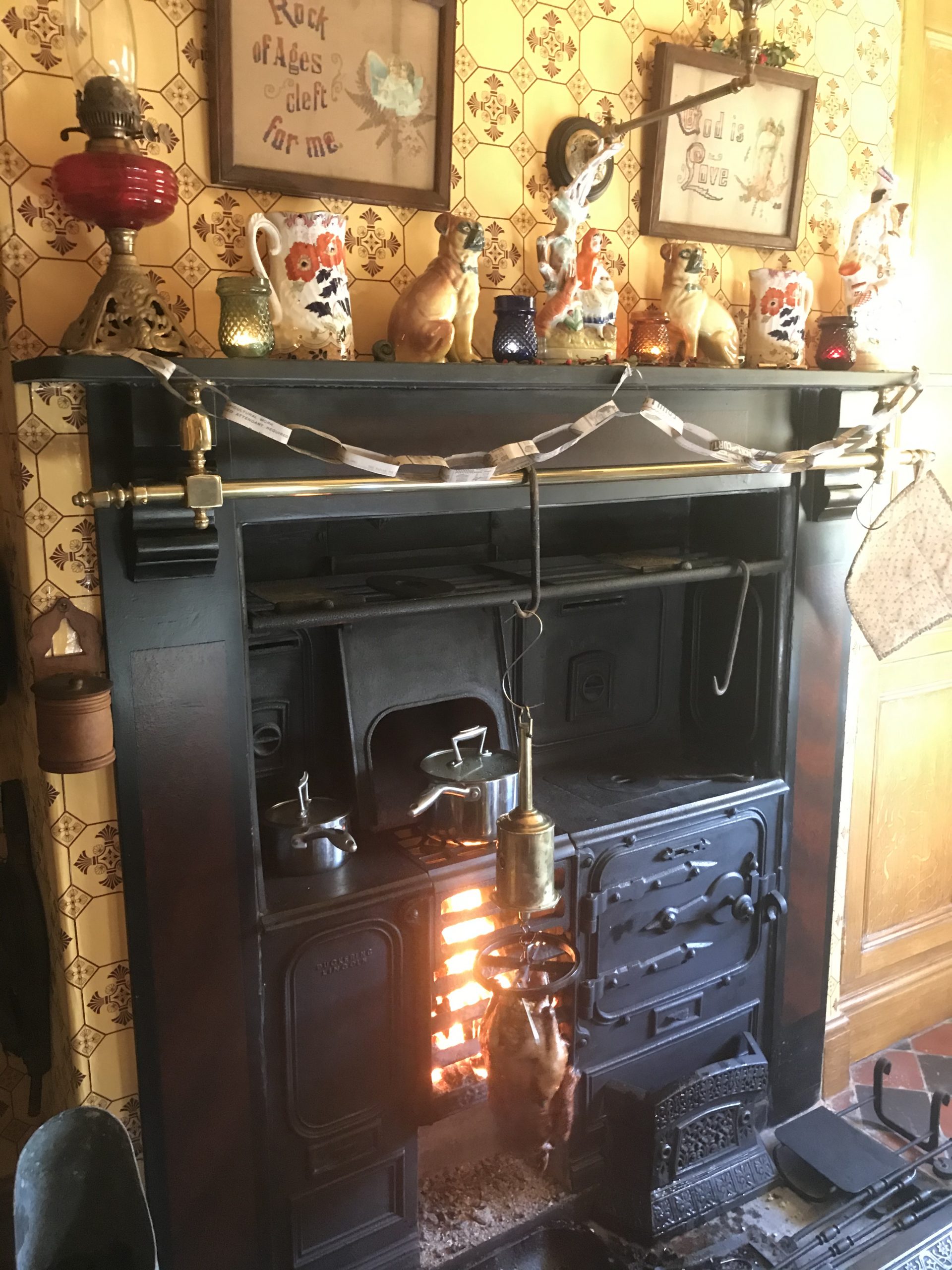 Here's what I've learnt about these historic cooking beasts and how to cook on them!
A range of ranges
Victorian homes in Britain had two possible types of cast iron ranges.
The average range had a grate flanked by an oven and a water boiler or a sham (for standing kettles). Larger houses had two or more ovens.
Nevertheless, your status dictated the type of range you had, like most other aspects of Victorian life.
Closed ranges
Middle and upper classes favoured this type of range as it was the most expensive and efficient.
The grate is concealed, meaning less heat escapes into the room and more circulates around the oven before going up the chimney.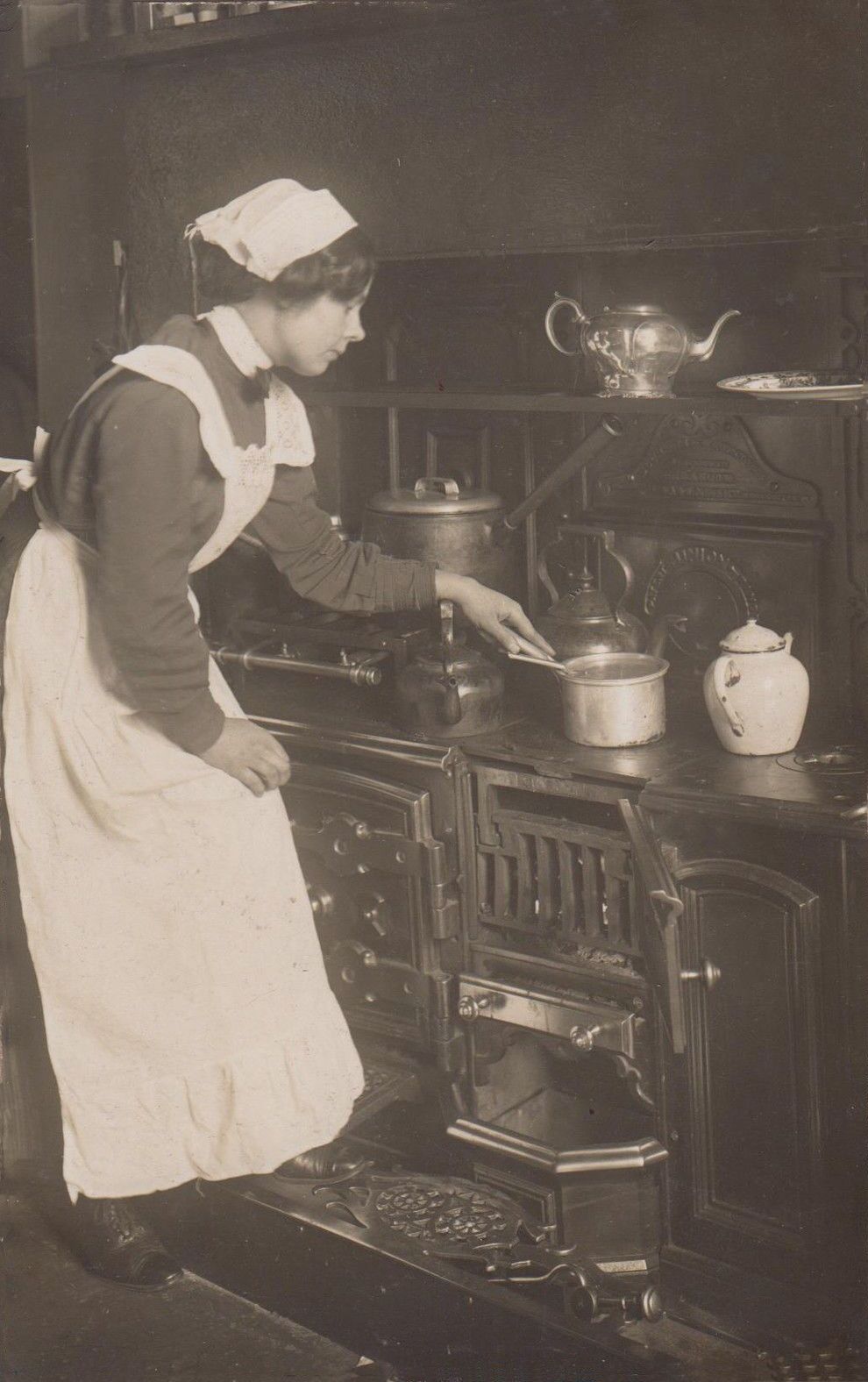 However, the grate had a door and removeable top to convert to an open range for roasting and warming the room.
These type of ranges came with matching accessories such as 'Tidy Betty' ashpan cover and ornate kettle stands.
The big names at the time such as Flavels, Coalbrookdale and Carron made these ranges.
Open ranges
Standard open ranges
The standard open range was cheaper and was often located in kitchen-cum-living rooms in more modest houses.
This range's open grate was a good heat source for the average Victorian family who rarely ventured into their parlour!
Its oven was smaller and grate was wider than on a closed range to make up for its heat inefficiency.
The more expensive versions had iron 'covings', whereas the cheaper versions required a brick back.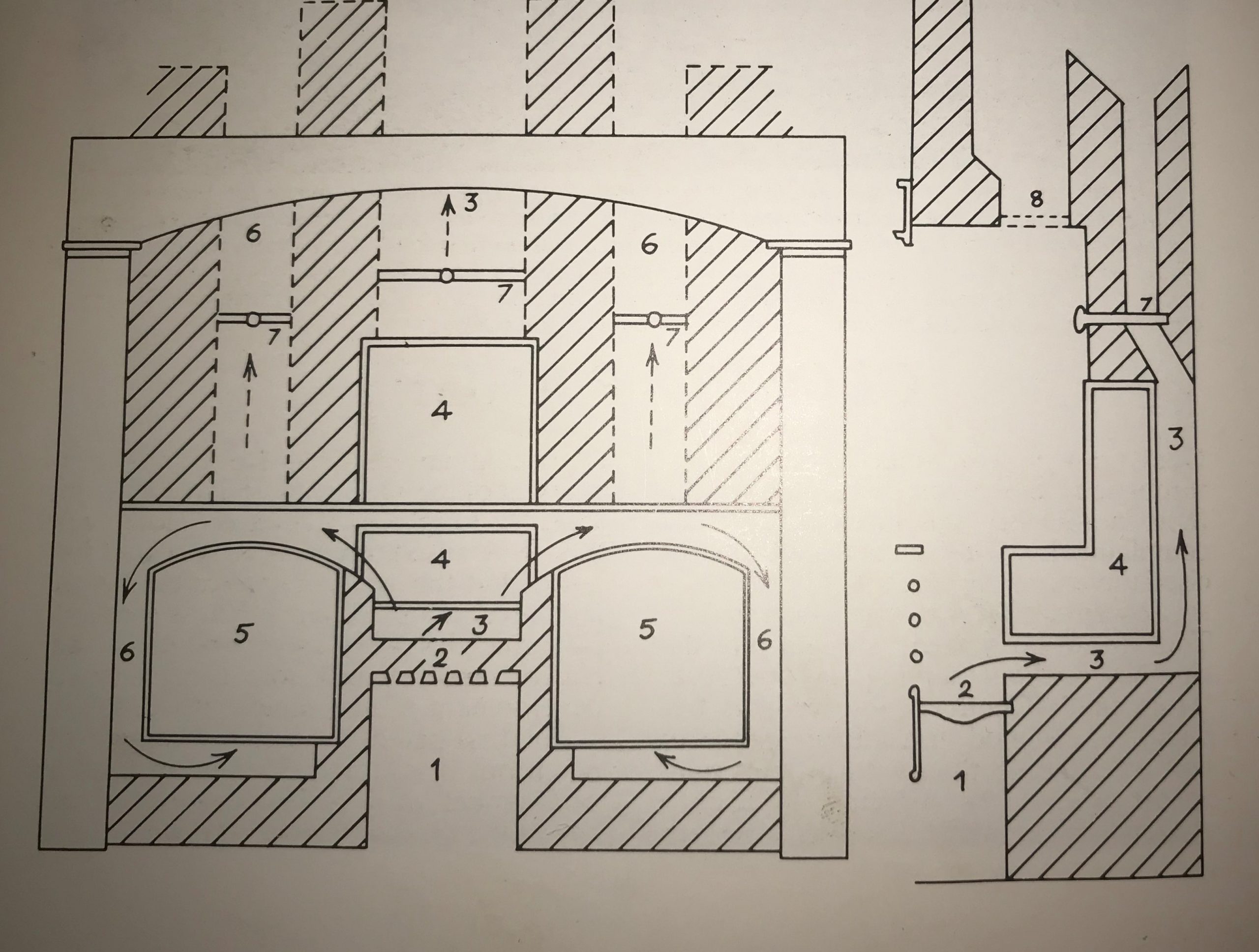 Like the closed range, this type of open range had separate flues for the oven and boiler.
These were linked to vents on the sides of the grate which diverted heat around a channel around the oven.
The heat then escaped underneath the oven and up the separate flue located behind the oven. The cook could control the heat by using eye-level dampers to close off the flue when the oven was no longer required.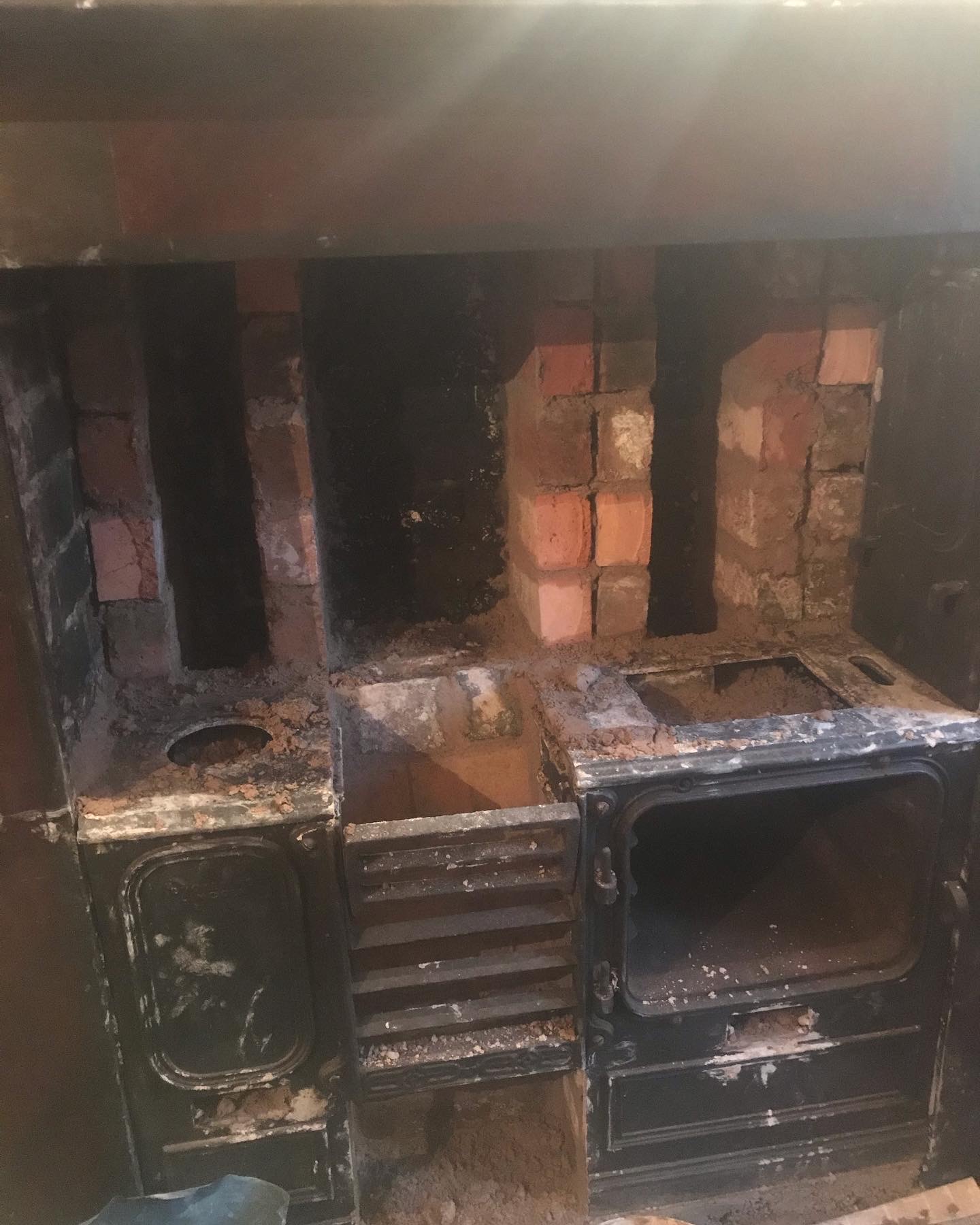 Chimney sweepers used 'soot' doors located on the coving or brick back to clean these flues to avoid soot build-up.
Open ranges with this type of set-up were often made by a local blacksmith using standard patterns available nationwide – the 'Excelsior' was the most common version.
Interestingly, there were also regional variations, such as the 'Yorkshire' range with high oven which was often found in the north of England.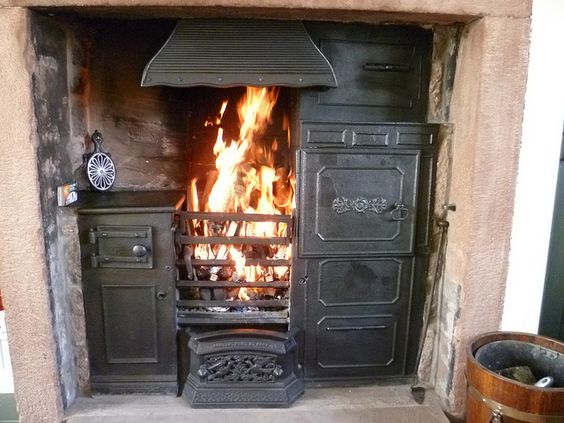 Cottage open ranges
These were the cheapest type of range and were often located in kitchens in poorer homes, sculleries and servant's communal rooms.
Unlike the previous ranges mentioned, these tended to be more decorative with floral or crest cast details on the doors and a moveable trivet over the grate for kettles.
They often came with two ovens as they were very small and the flue set-up was basic, making them fairly inefficient.
The cheapest versions were known as 'self-acting' with one central flue for the grate. The oven gained its heat purely from the grate side so the oven was fitted with a revolving plate which could be turned for even cooking.
The other type was known as an 'ash pit' range. This had a separate flue under the oven that gained extra heat from falling ashes in the ash pit.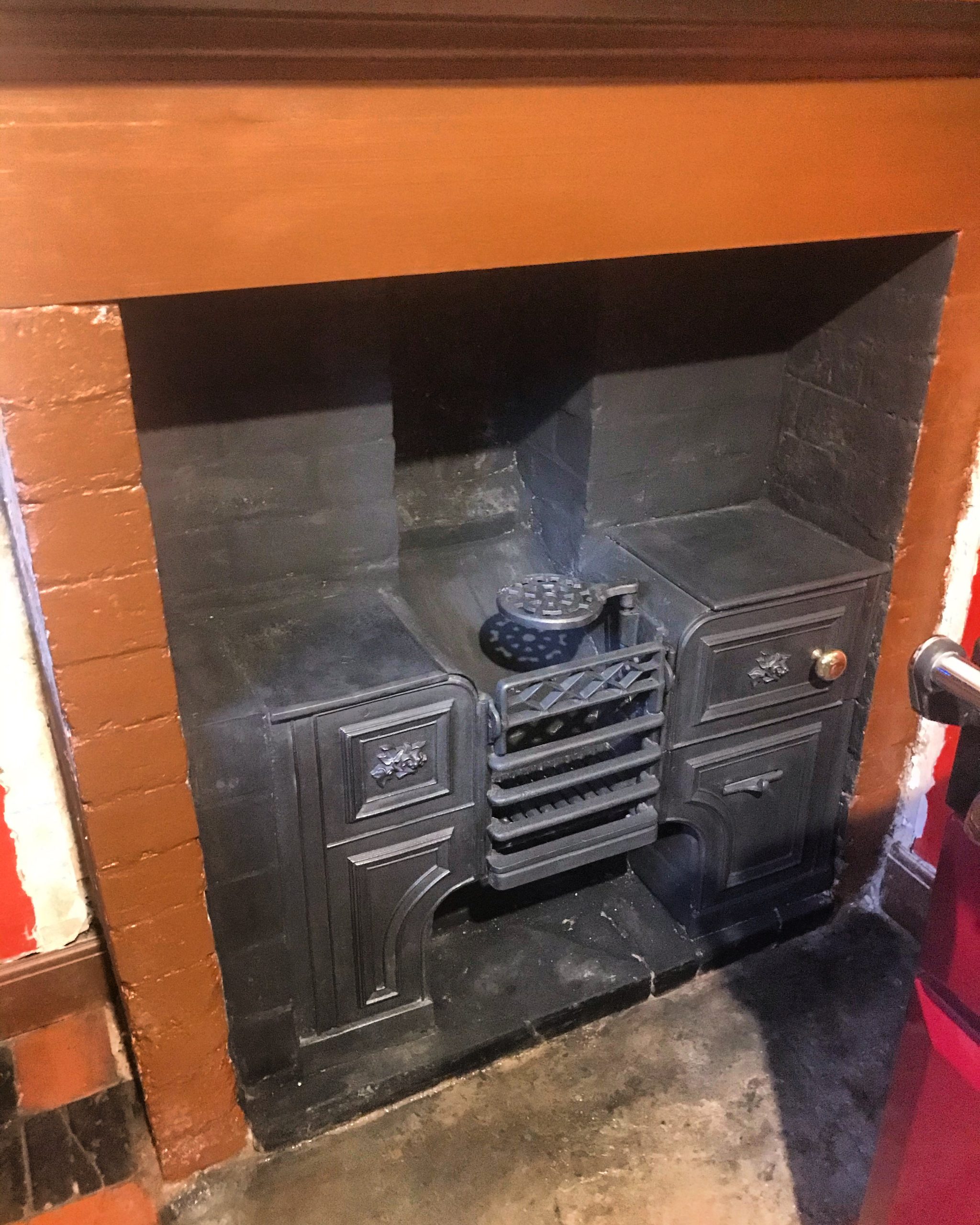 There was a Midland variety with a distinctive wide circular ash pit area.
Cooking on a cast iron range
I'm no expert on this, but I've learned a few things cooking on my standard open range in recent months.
Roasting meat isn't what we know today – it tended to be done over or against the burning grate.
Many Victorians used a 'bottle-jack' with a clockwork mechanism to turn the hanging meat.
I have one of these and we cooked a hanging duck on this last Christmas. It took around two hours to roast and gave the skin that gorgeous roasted taste that you don't get from oven cooking.
The oven tended to be used for baking. It takes up to two hours and lots of coal to get an open range oven up to 180 degrees – slow-cooking casseroles and stews are more suited for these ovens.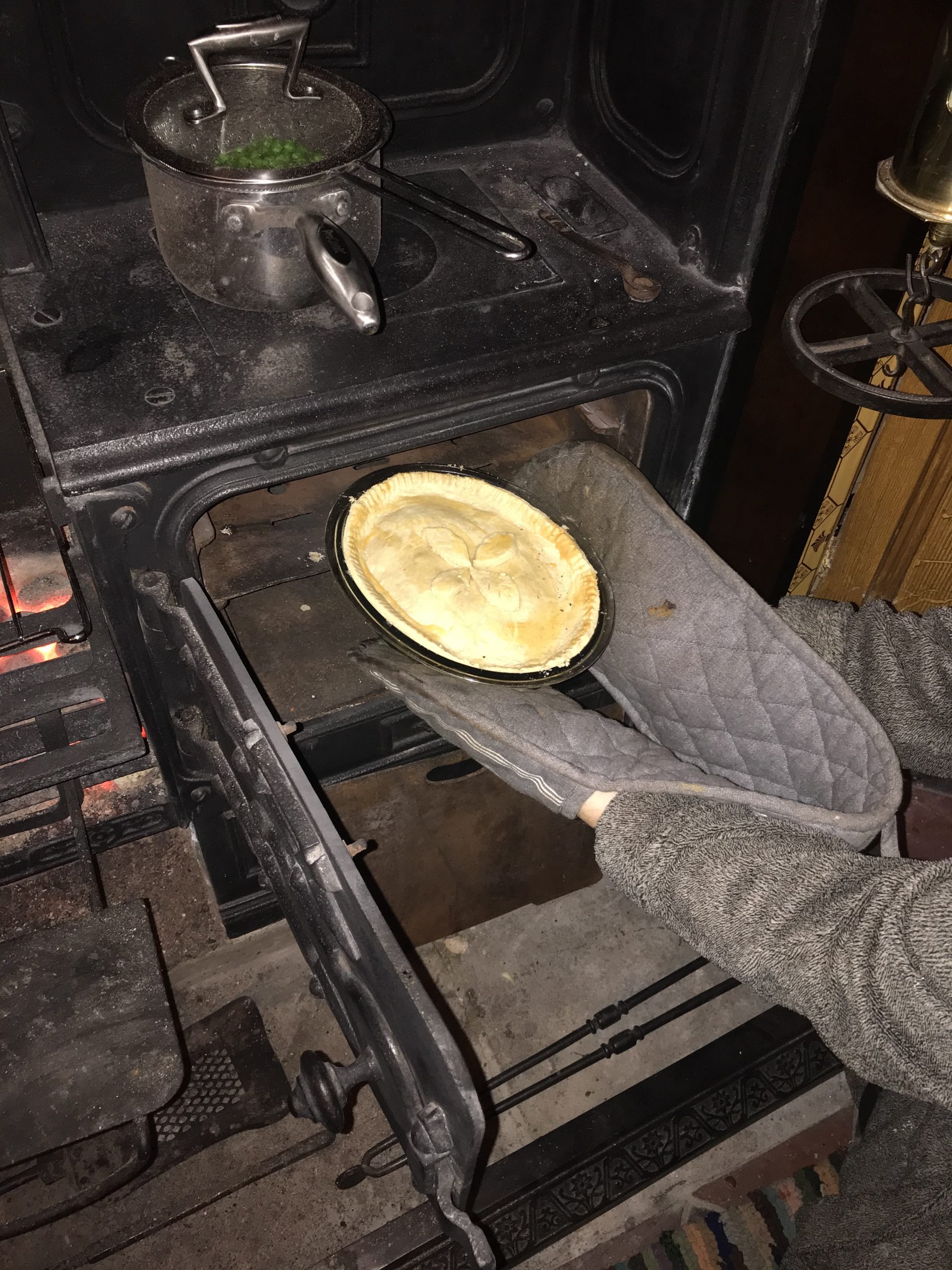 Surprisingly, we found smokeless coal doesn't get that hot and house coal is better. Unfortunately, this type of coal will soon be banned in the UK. Nevertheless, I've been advised using smokeless coal with hardwood such as beech can help boost the temperature.
Frying and boiling was carried out on the hob plate over the oven. My range has a removable plate where a pot or pan can stand over. However, we found placing the pan on the grille fitting directly above the grate ensured quicker boiling and frying.
The demise of the cast iron range
Technology and reduced availability of servants were the two main reasons for the demise of the cast-iron range.
Gas ovens became widely available and affordable in the early 20th century. Their advantage was instant heat and no mess to clean up.
For the working classes, small gas ovens could easily fit into their tiny sculleries, allowing them to use their back rooms just as a living space.
Some replaced their cast iron range with an enamelled and tiled combination range in the 1930s, which was more compact and took on the appearance of an open fire.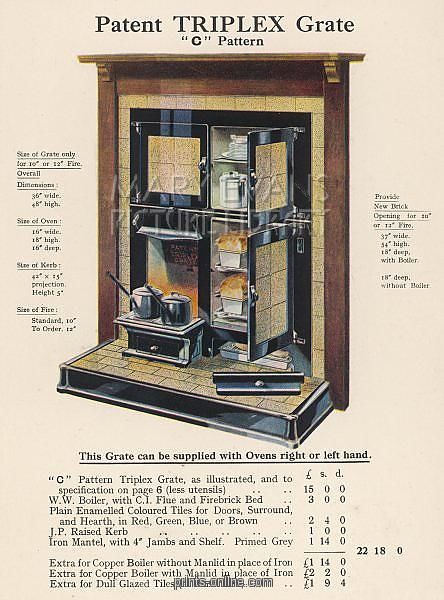 In contrast, the middle and upper classes struggled to find servants after the First World War and moving to gas meant they needed less domestic support.
Wealthy households upgraded to enamelled and coke-fired Agas in the 1930s. These were cleaner to use and did not require regular black leading.
Cast iron ranges were still available to buy during the 1930s and Mrs Smith's cottage museum has a standard open range fitted during this period.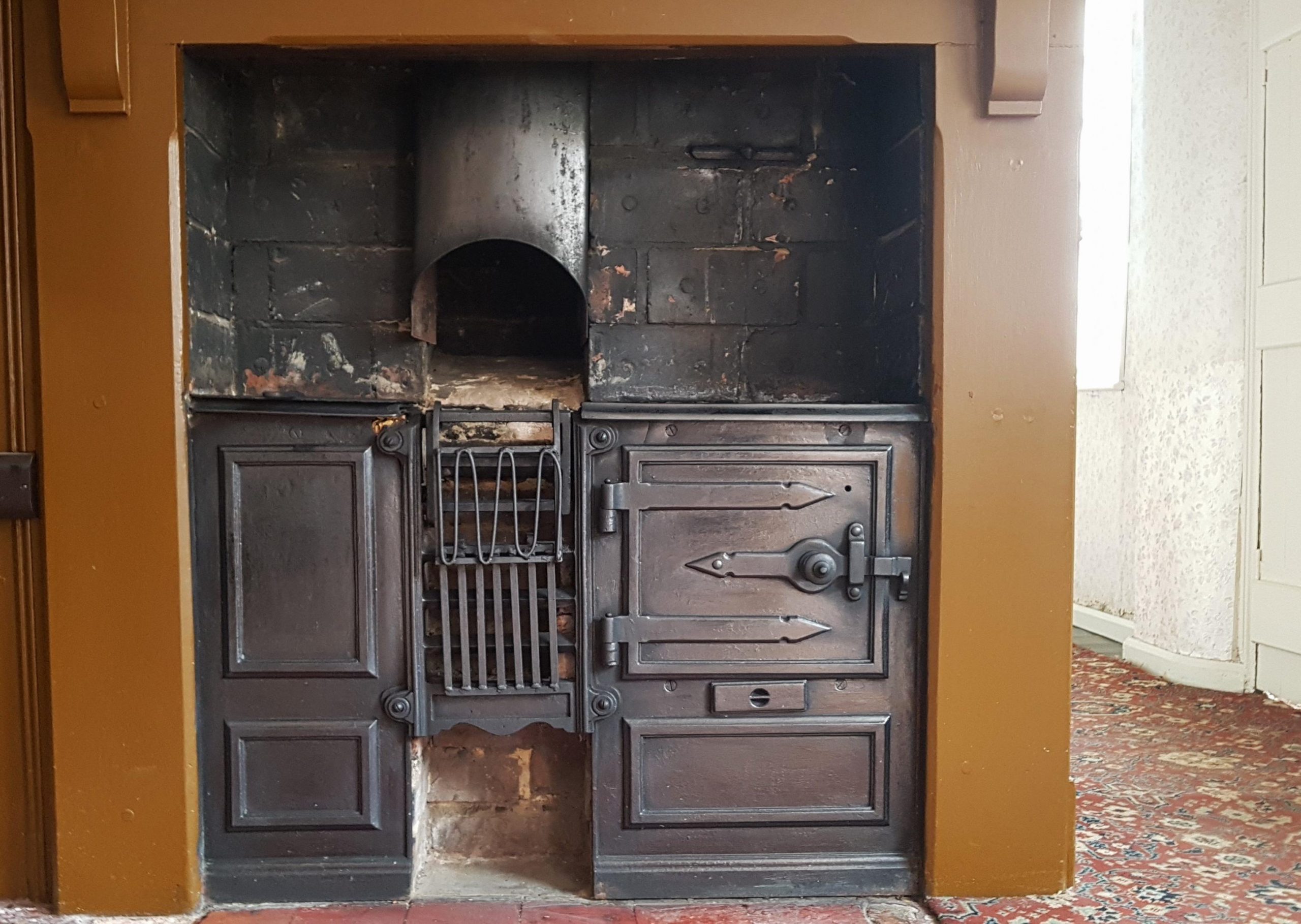 However, the remaining factories ceased cast iron range production at the start of the Second World War to focus on the war effort and did not resume afterwards.
By 1942, around half of UK homes used coal for cooking during the winter months, whereas almost three quarters of homes also used gas.
The majority of ranges were removed from British homes after the war in favour of modern tiled fireplaces.
Yet, I recently learnt the original range in my house was used until 1974 by the lady who lived in my houses from the 1920s.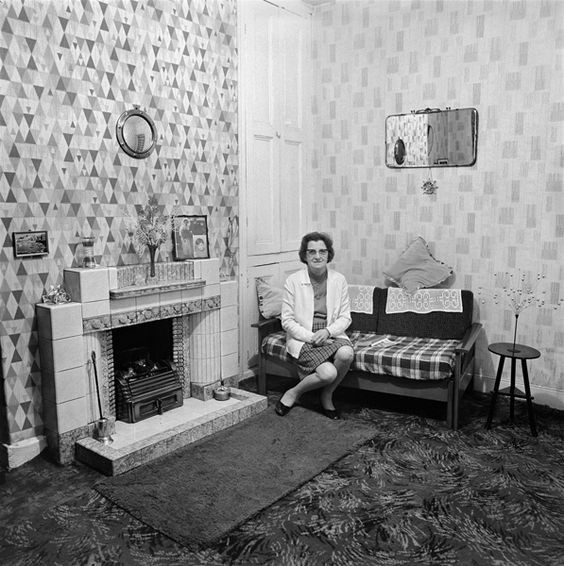 Further information
To see more photographs of ranges, visit my Pinterest account.
I also have a blog post on reinstating a Victorian fireplace.
Please follow and like us: