Have you ever tried dating antiques in your collection or in a junk shop?
It can be hard to work out what era an antique or vintage item was made, particularly when there are many fakes and reproduction in the mix!
I've been into antiques now for 20 years. I've made many mistakes and have learnt a lot.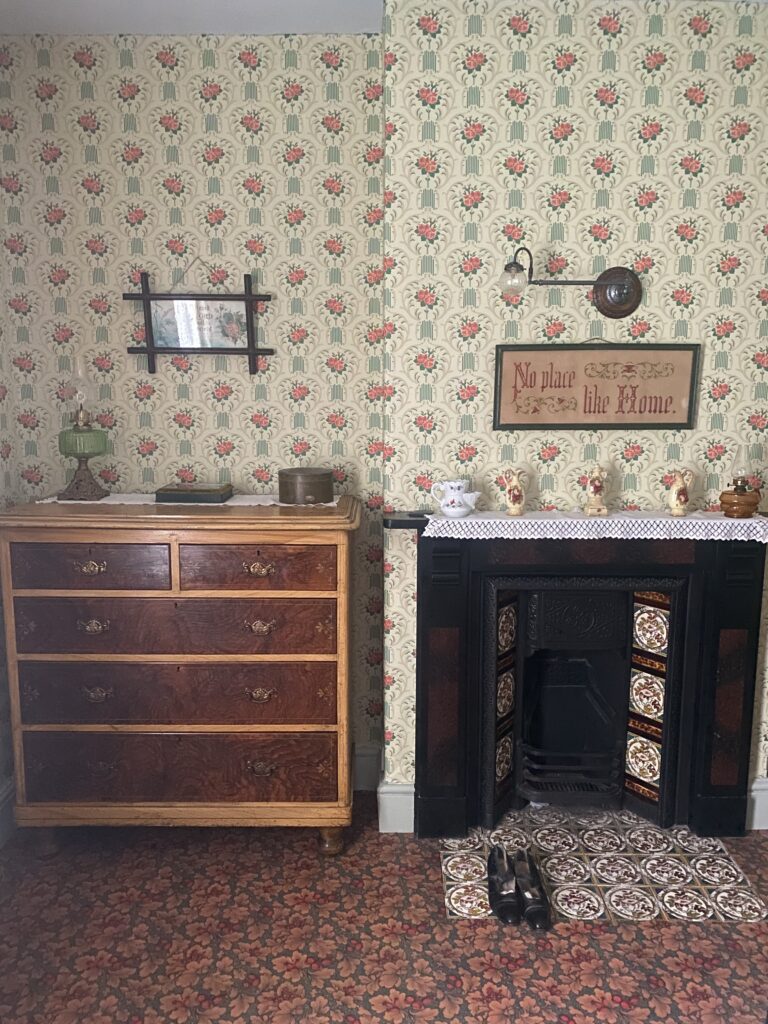 There is no such thing as an 'antiques expert.'
Most collectors and dealers specialise in a field, so will not know everything about the vast subject of antiques.
You tend to get an 'eye' for a fake or reproduction over time with antiques you take an interest in. This can't necessarily be learnt overnight.
However, there are a few simple tips which I've learnt over the years which can help you date some of your antiques.
This advice isn't exhaustive, and I recommend doing further research on items you aren't sure of.
Let me talk you through the basic areas.
Metal antiques
I'm particularly interested in antique cast iron items such as fireplaces and other household items.
Many of these, particularly those of superior quality, have a registration mark.
These are either a lozenge (1842 to 1883) or a number (post 1883) and relate to other items such as pottery.
Find out what these registration marks mean.
The Patent Office registered the design to a specific date, but the item may have been in production for a good couple of decades later.
For example, the design of my bedroom fireplaces date from 1877, but I have seen these fireplaces as original features in Edwardian homes (1901-1910).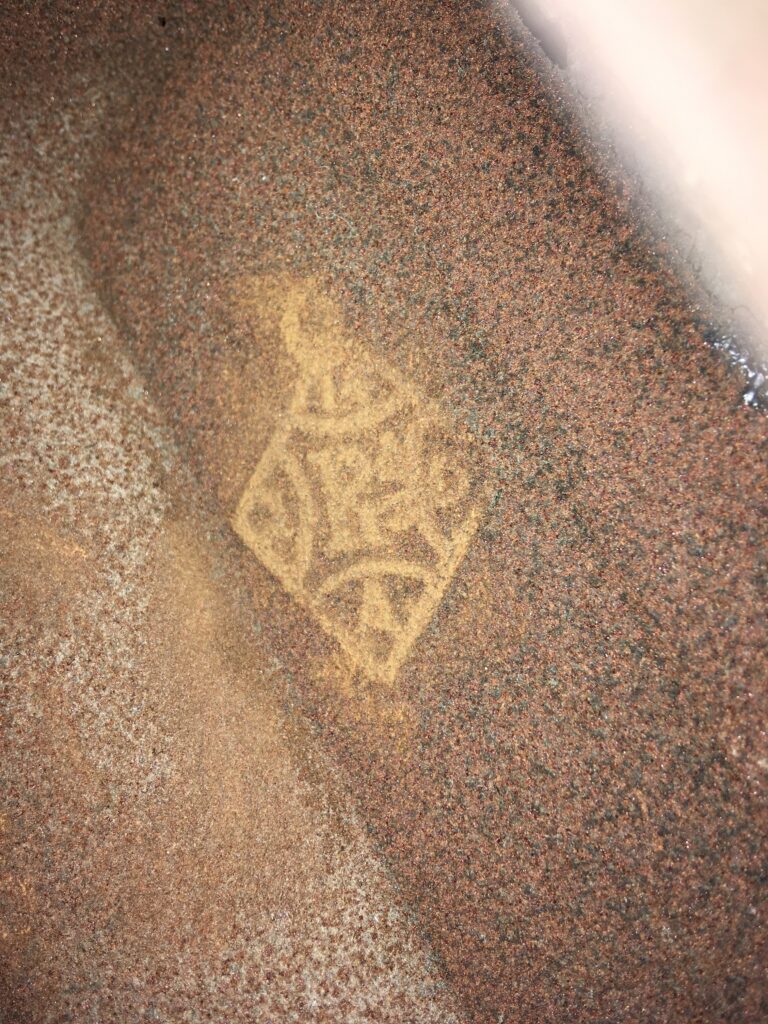 See my post on reinstating a Victorian fireplace to get an idea on dating fireplaces according to style.
Big tip – reproduction iron items tend not to be as crisp in detail as their antique counterparts.
Also check out the construction as antique nuts tend to be square rather than hexagonal in shape, unless a later owner repaired it using more modern materials.
I'm not an antique silver collector, but these items are stamped and you can research the hallmarks to date these items.
Dating antiques made of pottery
This is much more complex area.
Many designs will have a registration stamp like iron antiques.
I understand pottery makers could only register their products for 3 year. This means items were made up to 3 years after the date they were registered.
Be careful – sometimes the registration mark denotes the design of the physical item rather than the applied decorative elements, particularly if this is embossed on the piece of pottery.
Markings
Pottery makers often changed their corporate marking over the years.
Stoke-on-Trent manufacturers made most UK pottery items over the last two hundred years. The Potteries website lists all the major manufacturers from this area with their markings over the years.
Take note of the name of the manufacturer as they often tweaked their name as business partners moved on or died. For example, a father and son company often dropped the 'son' element when the father passed on, which helps to date the item.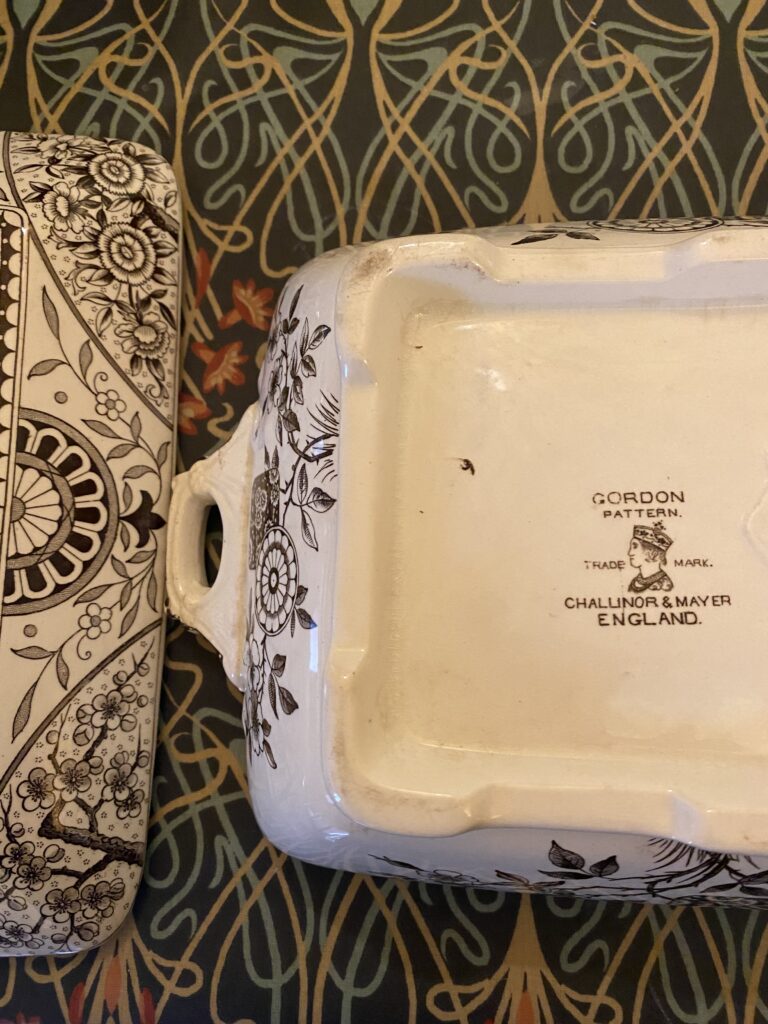 Likewise, manufacturers changed locations as they expanded their business.
Also bear in mind about Royal warrants such as 'Royal Doulton.' The company stamped their wares with the following marks before the Royal authorisation in 1902:
Doulton & Co. – 1854
Doulton Ware – 1871
Doulton & Co. Burslem – 1882
Doulton & Co. Ltd – 1899
Transfer print
I often find the transfer print can help date pieces of pottery. English manufacturers tended to make multicoloured transfer wares prior to 1900 with one-colour transfer outline and hand painted infills.
Cheaper wares beyond this date are often decorated completely with transfer print and are not hand painted. Therefore, details such as roses are far more detailed in appearance.
Staffordshire flatback ornaments
There are many articles on how to spot a fake Staffordshire flatback ornament.
A tip my mum's friend shared with me was checking the base. Fakers often create items with a chalky matt base which they dirty to look old. Real versions have a satin or areas of glossy glaze around its standing 'ring' base.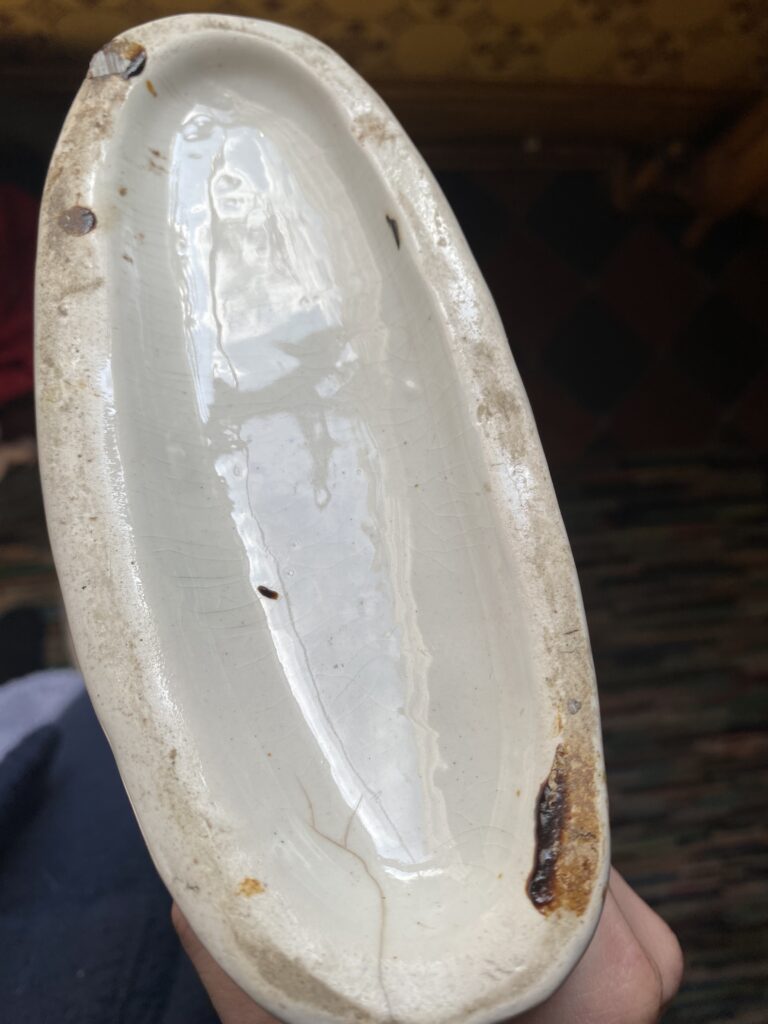 Fake Staffordshire ornaments also tend to have even dirty crazing. Whereas, crazing on real versions tends to be patchier and has uneven dirt in the crazing if any at all.
Dating antiques made of glass
I find this one of the trickiest areas as antique style glass is still made in vast numbers.
Be warned, dealers often sell Bohemian glass lustres as 'Victorian' for significant sums when they were actually made in 1950s communist Czechoslovakia.
To be frank, I've avoided buying lustres for this reason as I'm not confident I'm buying an antique.
More recent manufacturers have also flooded the market with reproduction cranberry glass over the years. A good tip is to hold the piece under the light. Later versions tend to have a blue tinge to the red glass.
I'm a collector of antique glass fairy lamps and there are even copies of these around. The copies tend to be much heavier, more even in colour and thickness, and lack air bubbles and imperfections. See my blog on the Victorian Christmas for more information on these glass wonders.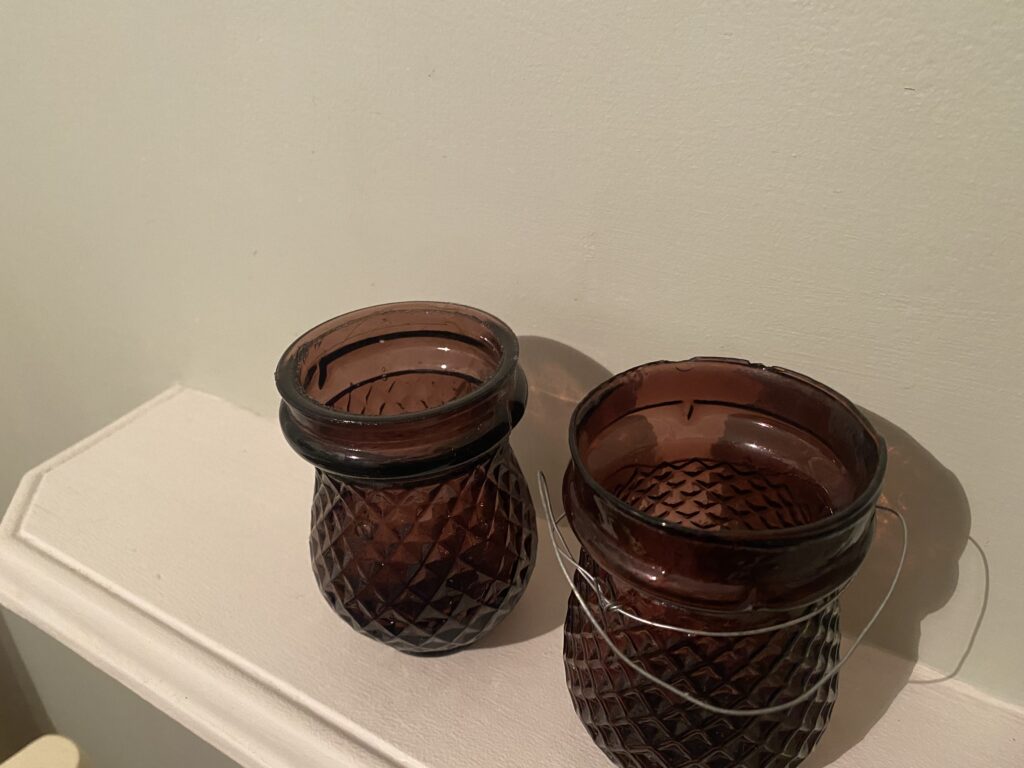 Dating antiques made of fabric
I find fabric antique less risky as there are less copies and reproductions.
For example, there is no longer a great demand for chenille table clothes and door curtains, so most on the markets are of considerable age.
Fabric items also tend to show their age in terms of fading and moth holes, which is difficult to fake.
Scottish manufacturers still make 'Nottingham' antique style lace curtains using the original looms from Nottingham. You can spot these by the shiny polyester thread edging.
Likewise, crafters still make patchwork quilts and rag rugs to this day.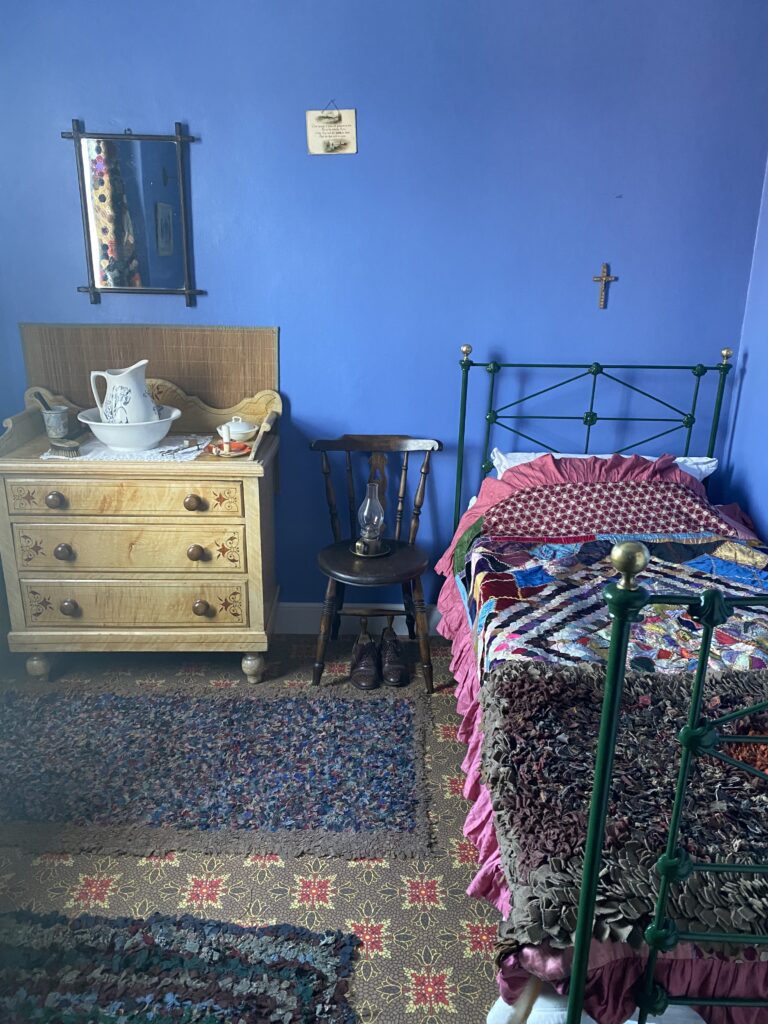 The use of fabric is key. Victorians made antique patchwork quilts of cotton and silk off cuts and made rag rugs purely from woollen items.
More modern materials such as nylon and polyester are an obvious sign of a later item.
Likewise, blankets and rugs made from the mid-20th century have much brighter material in oranges, greens and yellows, whereas antique versions will be in more muted tone. Furthermore, Victorians tended to make rag rugs from black, brown and grey cuttings from everyday woollen clothes of the period.
I recently bought tapestry sampler from a junk shop thinking it was from the 1850s. It was in a typical rosewood antique frame like many originals – good sign. However, I opened it up and found the backing canvas had a modern kit name stamped on it!
Remember your styles
Whether it be antique advertising items or a Victorian tea set, an antique's design is sometimes an obvious giveaway of its age. See also my blog on dating wallpaper to see how fashions changed over the years.
Late Victorian (1880 to 1901)
Look out for Aesthetic design style keys such as sunsets, sunflowers, fans and peacocks as well as asymmetric designs.
Items tended to be very floral with large garish prints in stylised form a la William Morris.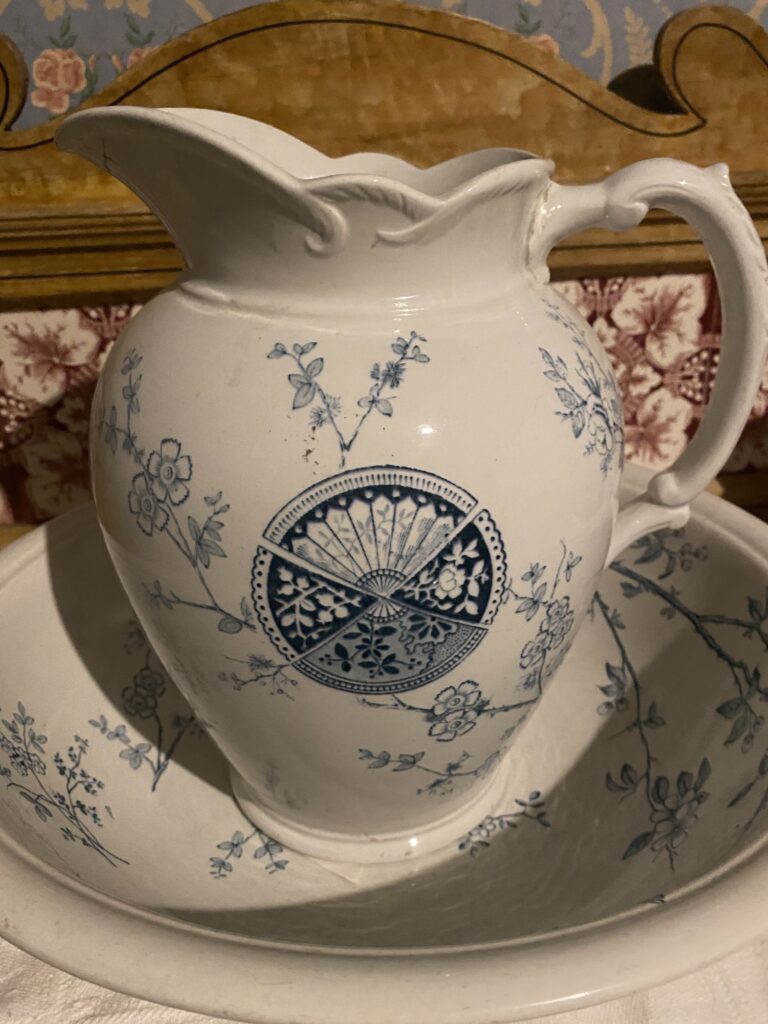 Edwardian (1901-1910)
Classical Rococo style made a comeback with medium sized motifs and floral bouquets. This was in reaction to the more progressive Art Nouveau style at this time, which was much more stylised and symmetrical with whiplash elements.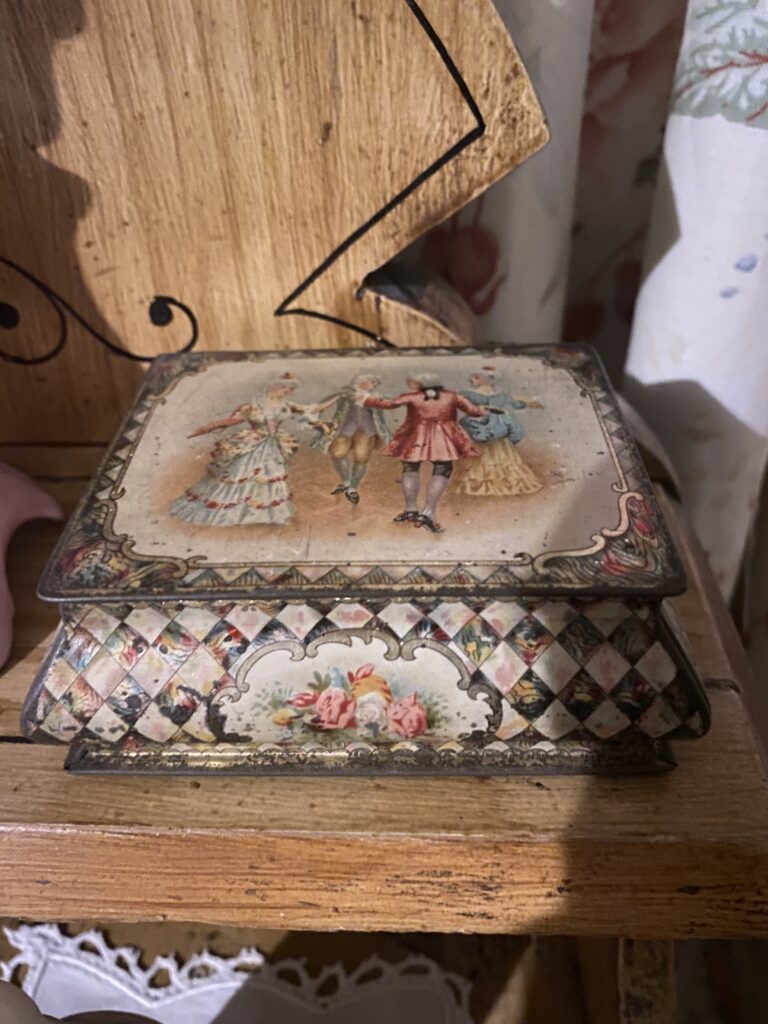 1910-1930
The neo-classical style became dominant with urns, swags and pin stripes. Packaging in particular became less colourful with solid black print to reduce costs during the First World War and the economic hardship that initially followed.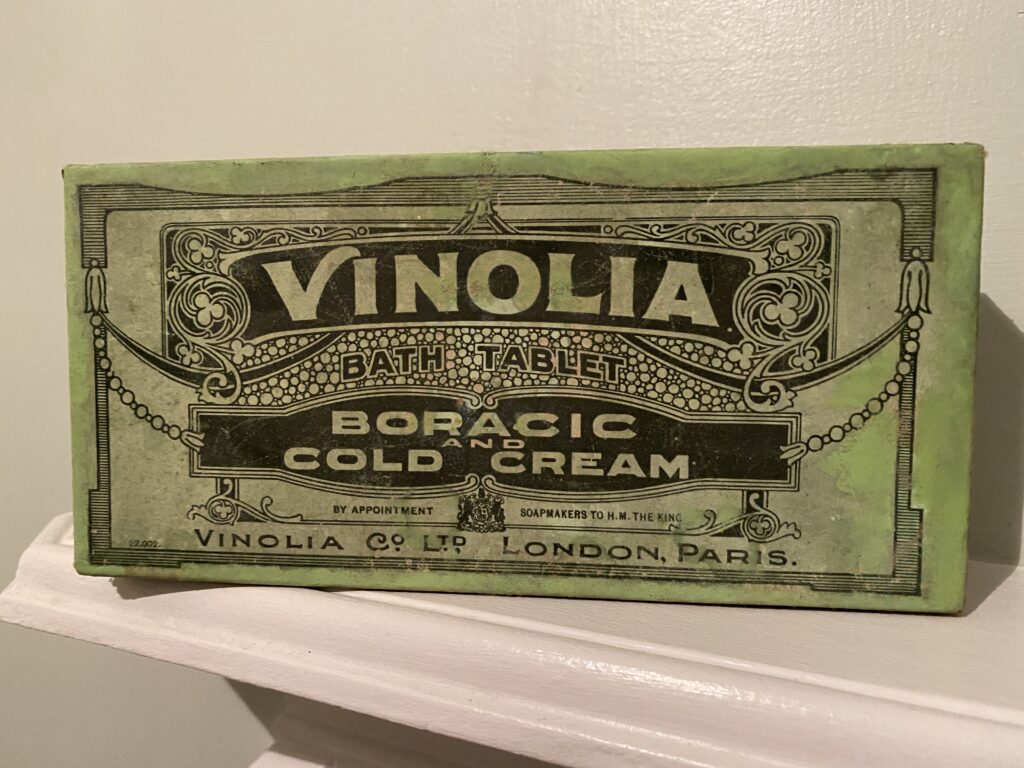 Art Deco reared its head in the latter part of the twenties with angular fans and sunbursts design cues in bright oranges, greens and pinks not seen in previous styles.
Please follow and like us: