When many of us think of the festive period we think of a Victorian Christmas.
After all, the Victorians made Christmas trees and yuletide decorations popular and Charles Dickens's Christmas Carol is so closely linked with this period.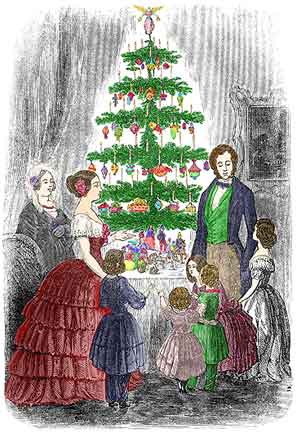 Many Victorian Christmas customs that endure today originated in Germany. The turning point was the London News illustration in 1846 of Queen Victoria and the German Prince Albert around a decorated tree which started the Christmas tree rage in the UK.
However, it was Queen Charlotte who brought over a tree from Germany for Royal festivities in 1800, but few people followed the Royal fashions at this time.
Christmas trees were expensive in the 19th century and poorer families often had the difficult choice of a tree or goose for the festive period.
Mid-Victorian householders made most of their decorations such as gilded walnuts, peanuts on string and popcorn garlands. Various websites give advice on how to make these decorations, including victoriana.com
Mass produced decorations
For me, I love the 1900 to 1930 period when mass produced Christmas decorations became more affordable to the masses and are more familiar to us today.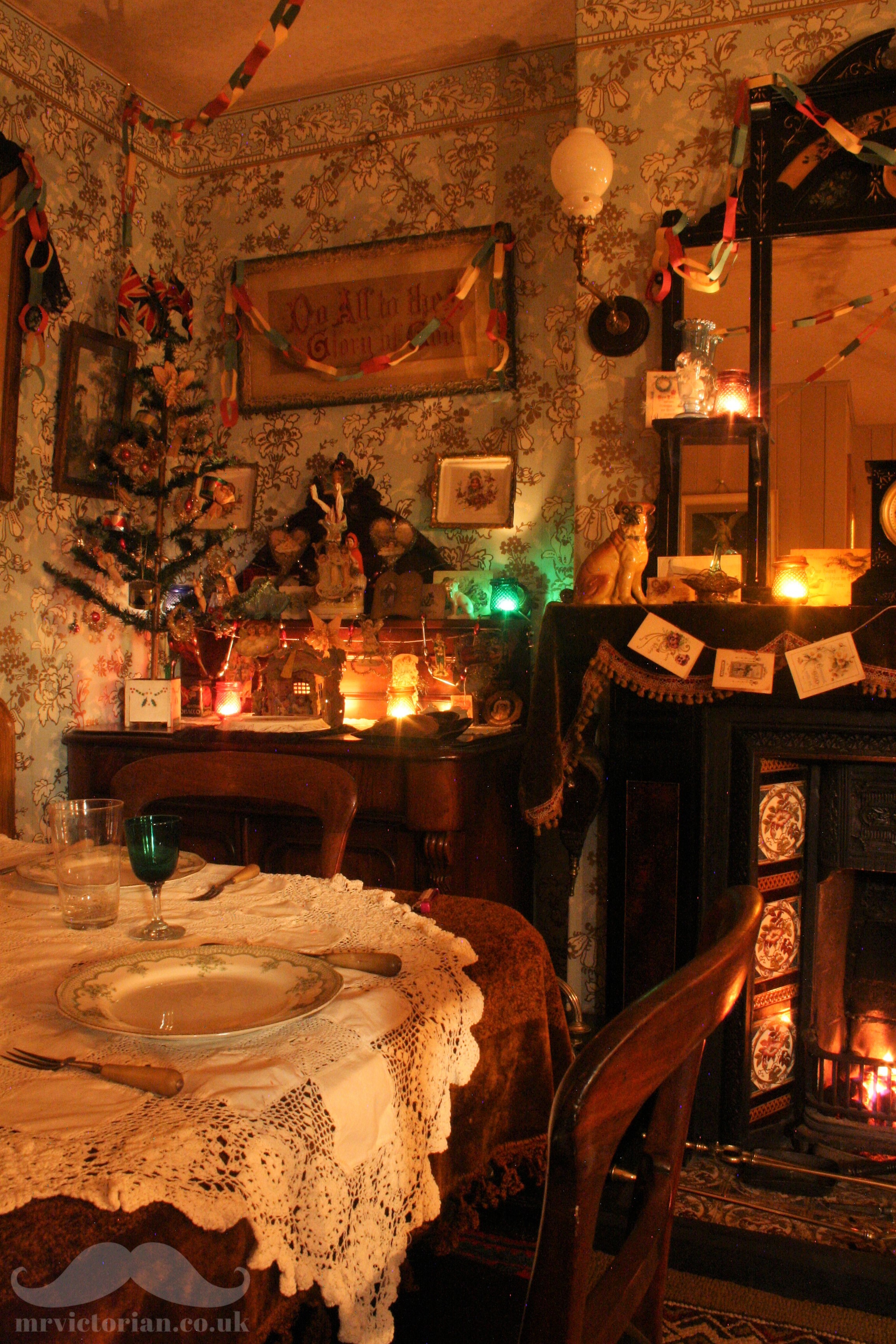 The Dresden area of Germany made the majority of these decorations. Many were quite crudely made, but the more expensive decorations are now very rare and are still out of the price range of most of us!
I've been collecting antique decorations for the last 14 years and own many of these primitive yet charming ornaments.
Above all, when decorating a Victorian Christmas tree think variety and clutter, just like a Victorian parlour.
The Victorians built up their collections over a period of time, giving their displays a richness often lacking today. They would frown at the colour coordination and uniformity of modern decorations!
Here are my tips for an authentic Victorian Christmas.
Victorian Christmas tree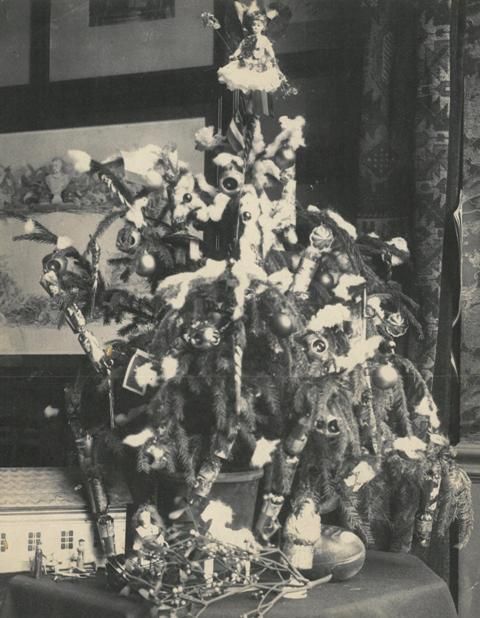 Large trees that we know today were the preserve of the wealthy Victorian.
Many north American photographs from the late 19th century show huge trees that reach the parlour ceiling, but let's not forget this was an area where large fir trees were more widely available.
British Victorians tended to have small trees placed on a table to give them extra height.
Linley Sambourne, the editor of the Victorian Punch magazine, had a very small tree in his upper middle class London home, which was heavily weighed down by a wealth of decorations!
Trees tended to be much sparser to make room for the plethora of decorations and lit candles.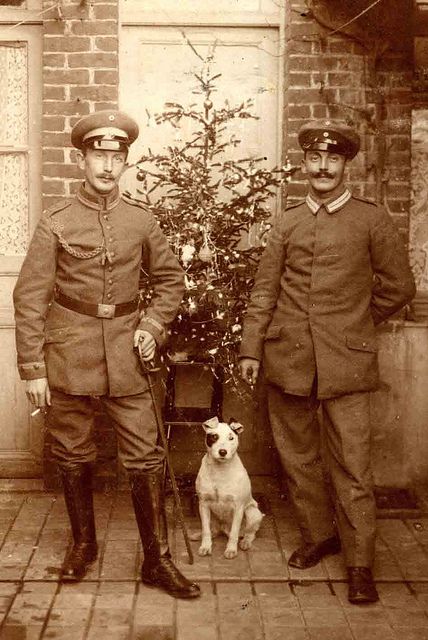 Fuller trees became more fashionable in the 1980s when decorations became smaller and tinsel fell out of fashion. Christmas tree growers now cut back the branches in the summer to make them grow this way.
This online oldhouseguy.com article explains the history of real Christmas trees and how to find a sparser version.
The Christmas tree actually fell out of favour in the 1900s after Queen Victoria's death.
However, those families that continued the tradition preferred the now widely available 'feather trees' made of goose, turkey, swan or ostrich feathers.
I own an early 20th century feather tree which is very spindly compared to modern artificial versions! However, I think the decorations hang better due to its spareness.
These trees are very sought after and can reach high prices on Ebay. I purchased mine for over £200 a few years back! However, reproductions are now available.
Victorian Christmas lights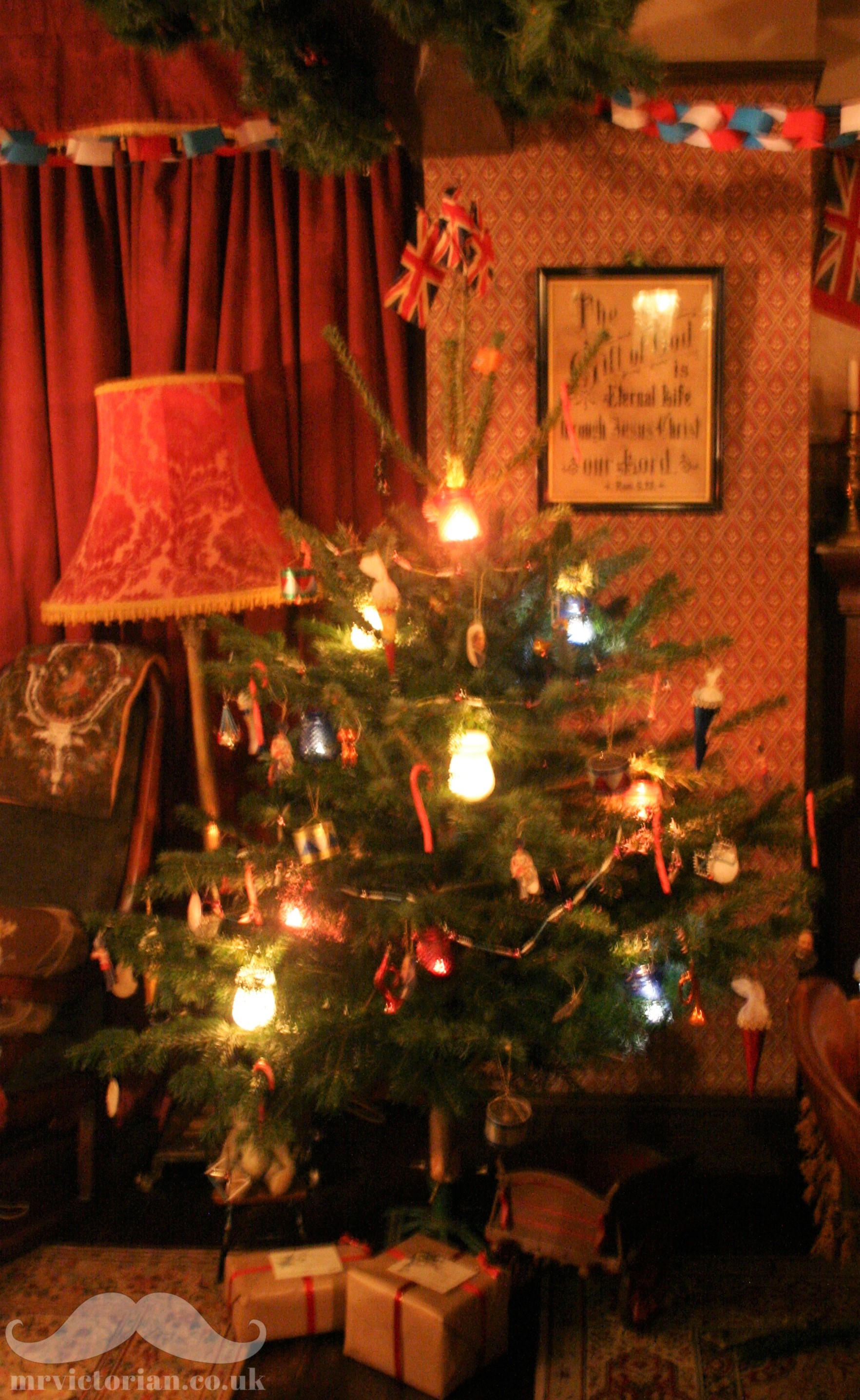 This is probably the biggest departure from a 'modern' tree – no electric lights!
Most householders lit candles on the tree up until the 1950s, which still fills me with anxiety! Many families used to have a bucket of water next to the tree in case of an unfortunate accident.
You may not be familiar with illumination lamps but these were also very popular tree decorations.
These glass candle holders came in a range of colours and hung from the tree with a wire. They look like pineapples and the diamond design on their outside help the light to sparkle like fairy wings, hence the name 'fairy lights'. Deep red illumination lamps are the rarest colour as the glass was injected with gold.
I have a collection of these lamps. I once tried placing these holders on a real tree and one cracked from the heat of a candle, nearly causing a house fire. Never again! DON'T DO THIS AT HOME.
However, they make great tealights scattered around your living room if you 're looking for a Victorian alternative to electric Christmas lights.
Paper chains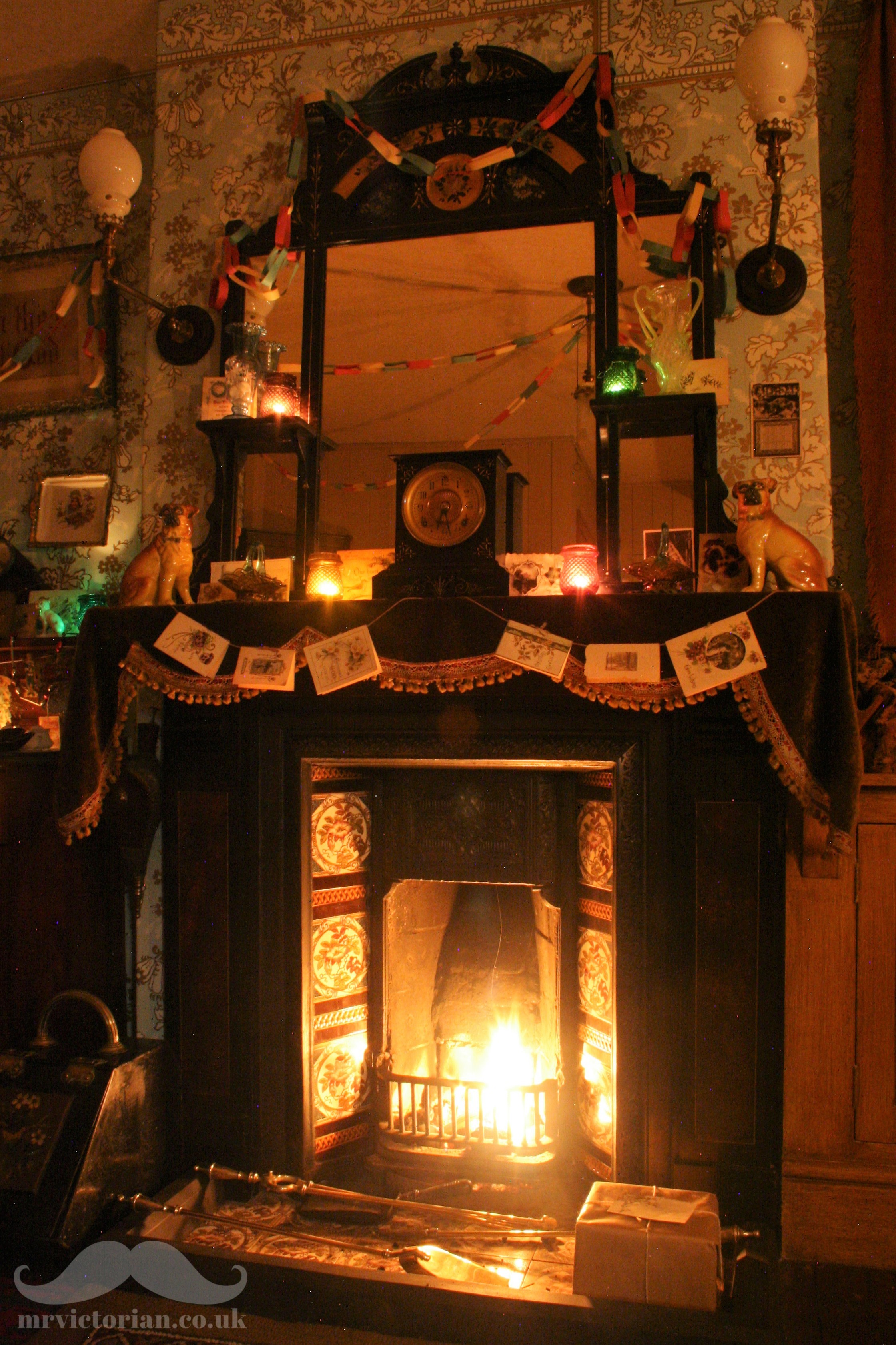 These handmade decorations were all the rage until the 1970s and were a family pastime on the run-up to Christmas.
Families commonly hung the chains from the four corners of a parlour ceiling.
They are also a great garland alternative to tinsel on the tree and along picture rails.
Ceiling decorations are now somewhat out of fashion and the tree is very much the focus, which is shame as these chains make a real visual impact.
You can now get kits to make multi-coloured chains online and from large stores. Poorer Victorian families made them from painted newspaper if you want a more rustic look.
Flags
British and US Victorians were much more patriotic than we are today and used Christmas as an excuse to celebrate their nation.
Many householders during this period topped their trees with their nation's flags or had little flags as ornaments.
Tinsel ornaments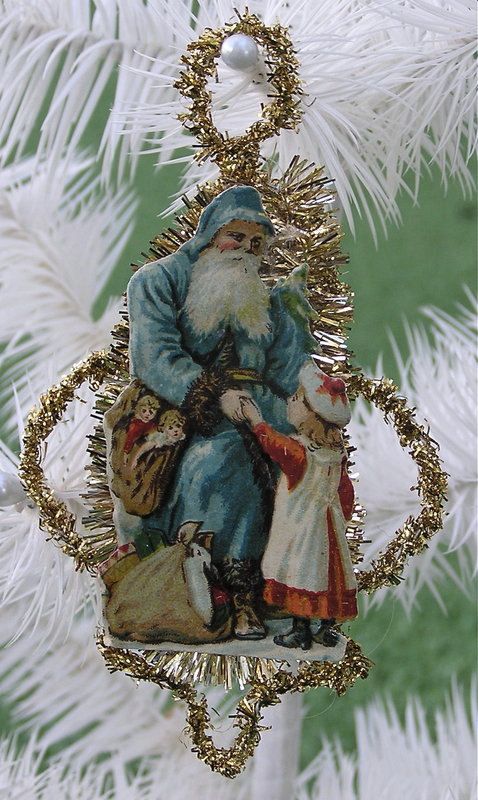 The mid-20th century brought about the fashion for thick bright garlands of tinsel, but many Victorian Christmas ornaments from around 1900 featured tinsel.
These decorations have a much more tasteful dull sparkle and often include coloured mercury glass baubles or scrap images of angels, children or Father Christmas.
They are still relatively affordable and are widely available on the internet.
Alternatively, they can also be easily replicated using antique or replica scraps available on Ebay, Etsy and other internet sites.
Mercury glass decorations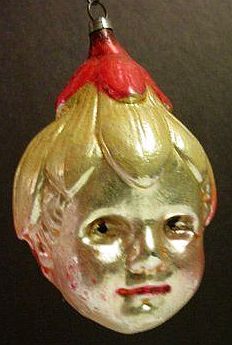 The Victorians favoured Christmas ornaments and garlands made of painted mercury glass, which have a wonderful patina.
A range of subjects were available, including birds with spun cotton tails, little santas, houses, baskets of fruit and silvered fur cones.
The key to these ornaments was variety and a mix of colours and designs. Forget the modern trend for colour coordination and matching baubles!
Cotton ornaments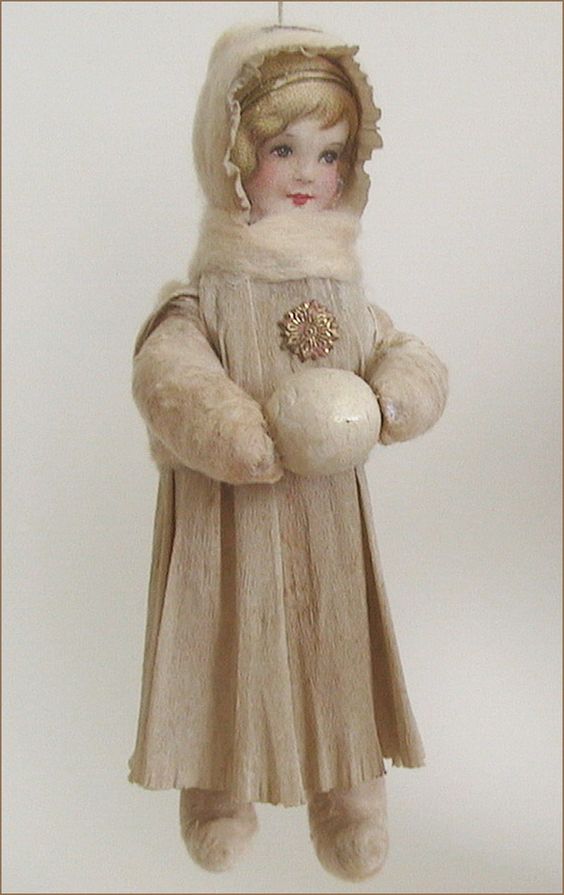 I'll never forget the day I walked into a tiny Prague antique shop and the owner brought me out of box these beauties which I still treasure today.
Often called 'cotton batting' ornaments, these human or animal shaped decorations often had crepe paper detail and paper scrap faces. The more expensive versions had porcelain heads.
Christmas cards
Victorians loved sending Christmas cards and antique versions from the late 19th and early 20th centuries are still plentiful and cheap today. Great for someone starting out a collection!
Unlike today, they can often feature illustrations of flowers and are much smaller so don't dominate a room.
They also make an effective display hung along a piece of string on the mantlepiece and scattered around your living room.
Personally, I hide away modern Christmas cards given to me by friends and family and only display my antique card collection each year!
Please follow and like us: