Linoleum was the wonder invention of the Victorian period and led the way for the vinyl flooring we know today.
Unlike vinyl flooring today, homeowners up until the 1960s didn't just use linoleum in kitchens and bathrooms.
The middle and working classes also fitted the product in bedrooms as it had antibacterial qualities. This was important at a time when families feared the spread of deadly diseases such tuberculosis.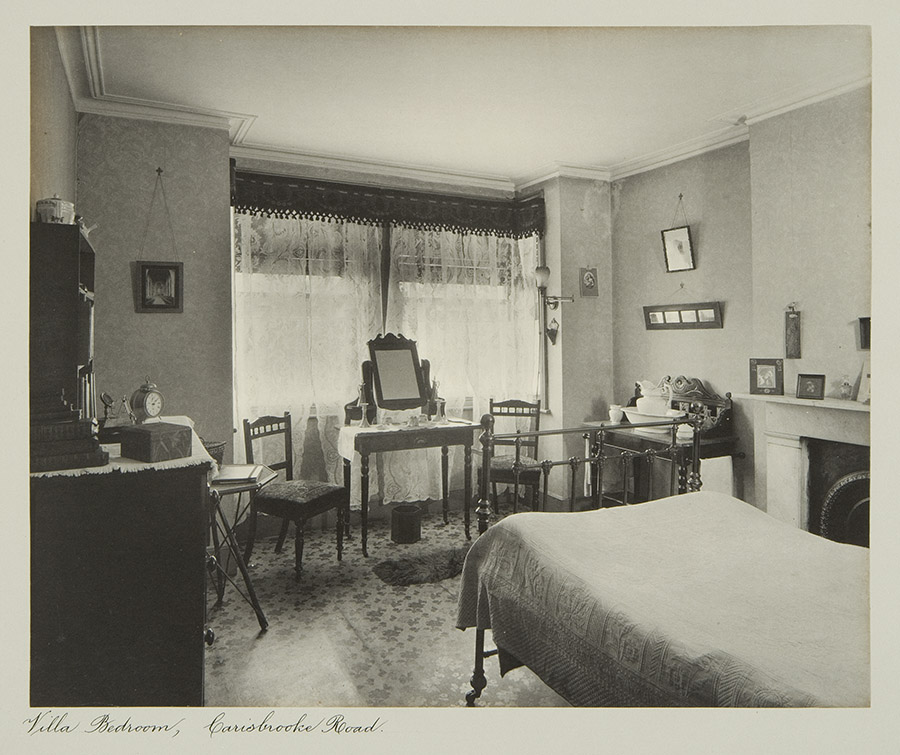 Furthermore, it's made of natural materials such as linseed oil so is a fairly 'green' product for today's environmentally conscious.
Most people aged under 50 have never heard of linoleum and think of vinyl flooring when they hear the generic word 'lino'. This is mainly because cheaper vinyl flooring became popular in the 1960s and overshadowed linoleum in the home.
This article gives a quick history of linoleum, how it fell out of favour and how you can replicate the look of historic designs in your period home.
Linoleum – its Victorian origins
Canvas floors coated with gesso and varnish – known as oilcloths – became popular in the early 19th century. They were wipeable unlike other floor treatments of the period but were expensive and their patterns tended to wear away quickly.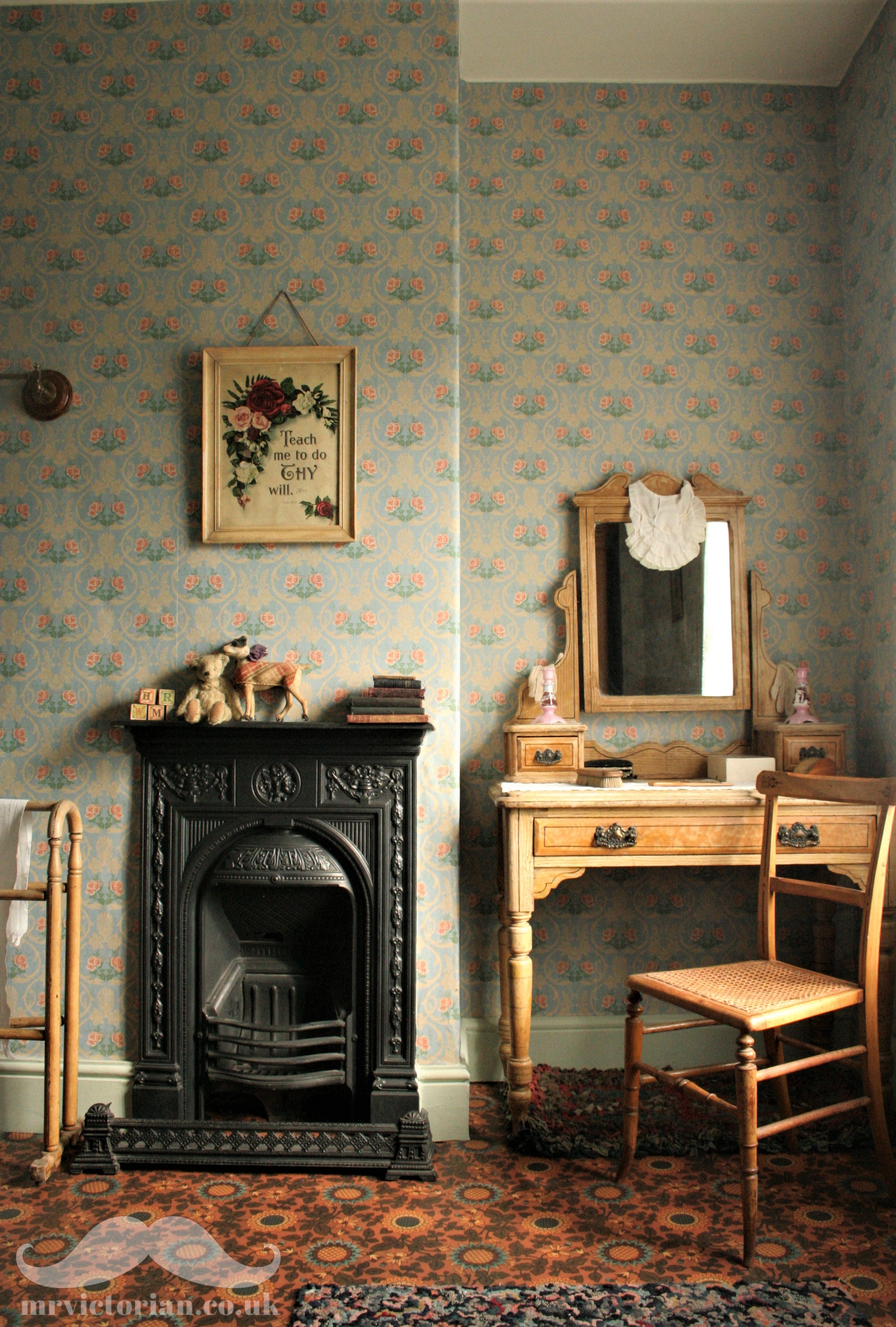 Frederick Walton first patented linoleum as we know it today in 1860 and went on to invent Lincrusta wallpaper in 1877. Nevertheless, it didn't become popular until the 1870s with Kirkcaldy company Nairn becoming a leading producer.
Manufacturers initially produced it in plain colours, but it soon became available in patterns that imitated granite and marble.
A more durable inlaid linoleum was invented in 1882 which meant the pattern ran all the way through its thickness. However, this version was expensive and most customers opted for the printed variety in rooms with less traffic.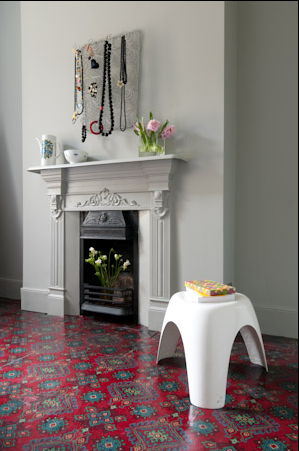 Like vinyl flooring today, most linoleum designs copied more superior flooring such as parquet, tiles and carpets.  A previous blog post explores the Victorian love of 'faking it'. In addition, floral patterns similar to wallpaper designs of the period were a popular choice for bedrooms.
My Pinterest account shows the variety of designs available until 1920.
1920s onwards
A similar product known as Congoleum became popular in the 1920s and was felt based, less hard wearing but three times cheaper! Many older people who remember linoleum are probably thinking of this product but the patterns were similar.
From the 1930s patterns tended to be more abstract with Art Deco and marble designs becoming popular. Householders also favoured Congoleum rugs for exposed wooden floors instead of a woven mat. Many people still find these under carpets in 1930s houses.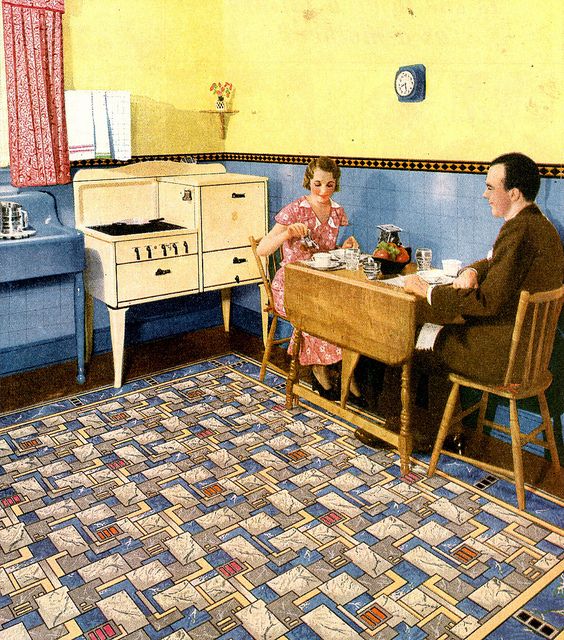 My Pinterest account shows the shift in designs during this period.
From the 1950s wall-to-wall carpets became more affordable for the average homeowner, meaning the dated linoleum became the preserve of kitchen and bathrooms until vinyl flooring became widely available. However, poorer families still used linoleum-type flooring in bedrooms during the 1960s – my mother remembers a purple linoleum in her bedroom of her first house!
Linoleum today
Forbo-Nairn still produces linoleum in Kirkcaldy, now known as Marmoleum.
They produce mainly marble-type patterns which are mostly used in industrial, office and hospital settings due to durability. It is very difficult to cut and needs a specialist to lay, which adds to its cost.
Inlaid patterns can be commissioned but are expensive.
I have commissioned old linoleum designs printed on vinyl flooring using Printed Space in my upstairs rooms for an authentic look.
These patterned floors are very durable and are great for hiding the inevitable dust that forms over a very short period!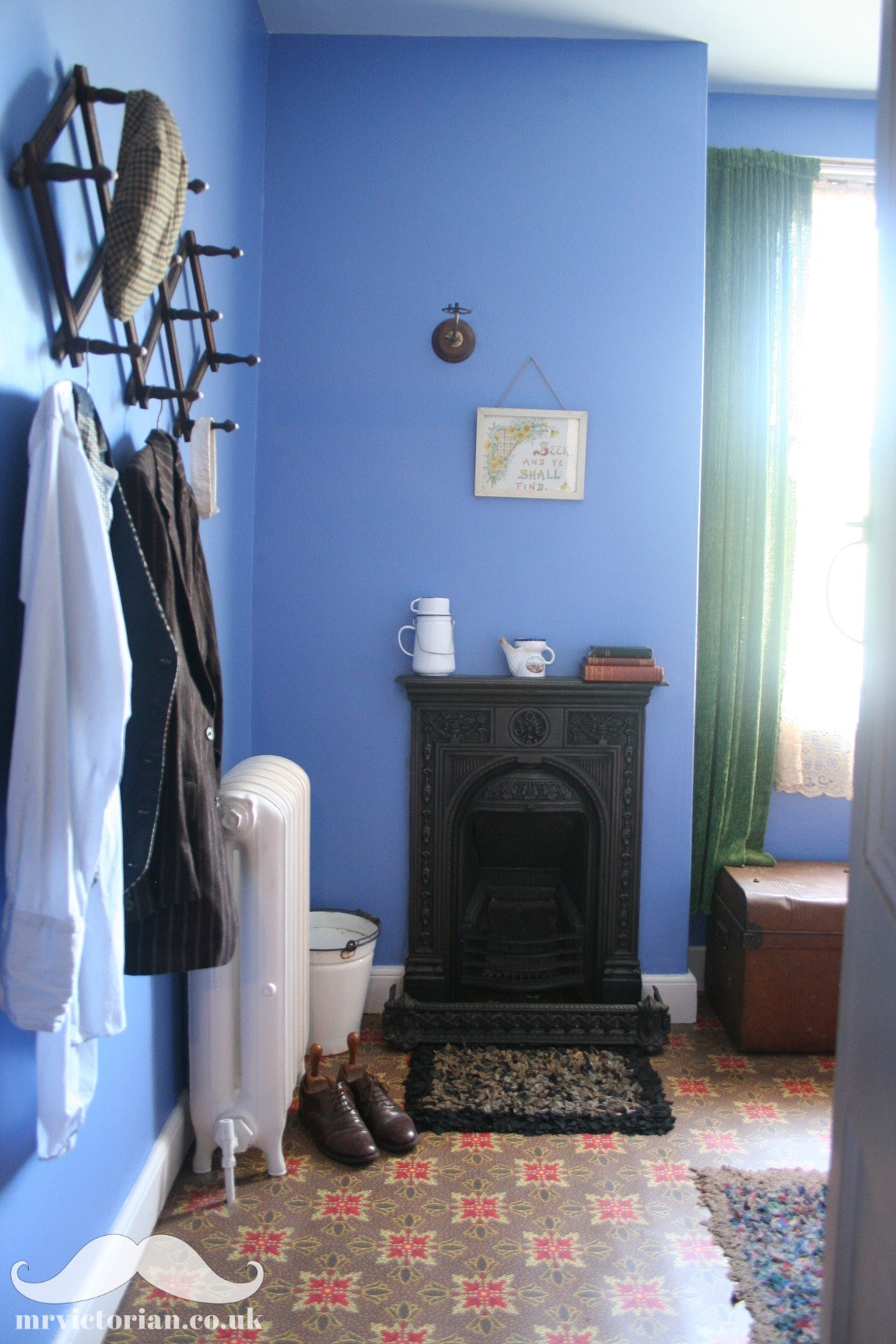 Although these printed designs are not cheap. they will last many years in rooms with less traffic.
In my opinion, these floorings are design statement in their own right and don't just blend in with the décor like a boring cream carpet! They work particularly well in a room with painted walls or a subtle patterned wallpaper.
Be careful if you find a post Second World War linoleum in your house as it may contain harmful asbestos and lead so is not worth preserving, particularly if is felt based or has a felt underlay.
Please follow and like us: