The simple no-frills Edwardian bathroom is a timeless design classic that endures to this day.
It is surprising that bare white, functional spaces aren't the preserve of the modern minimalist home.
White painted walls and simple fittings are key Edwardian features which are easy to replicate in a bathroom today.
I'm going to briefly outline the history of the bathroom before giving you eight tips for getting the Edwardian bathroom look.
Design journey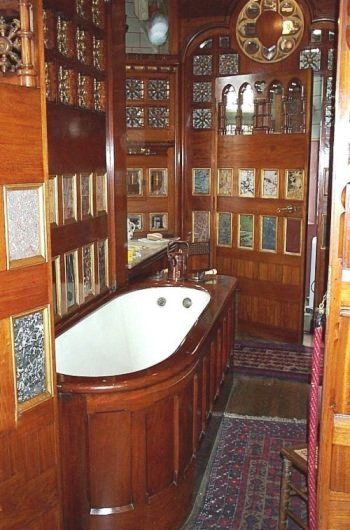 The bathroom has taken a different design journey compared to the kitchen since the late Victorian period.
The kitchen has now become a more luxurious and expensive space compared to its basic Victorian past. Whereas, the bathroom was originally a nineteenth century luxury few could afford.
Therefore, the bathroom was an opportunity for the wealthy to show-off with heavy mahogany encased fittings and panelled walls.
However, after the Prince of Wales (the future Edward VII) nearly died from typhoid in 1871 due to contamination from a newly-installed water closet, there was a move to make bathrooms more hygienic.
Pipework became exposed and sinks began to be sold with cast iron stands for easy cleaning.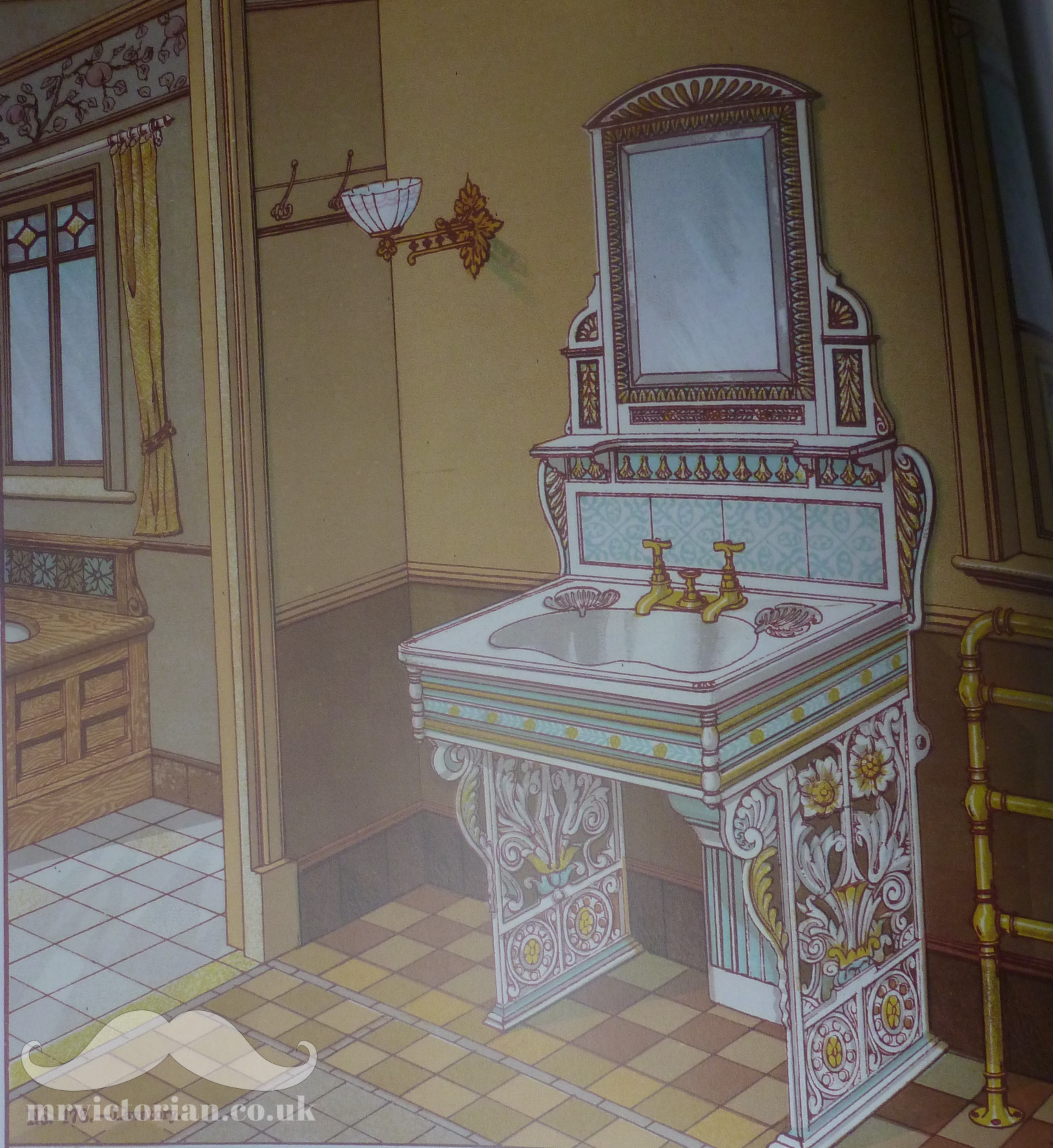 However, the Victorians couldn't resist the temptation to smother sanitaryware with floral transfer prints and ornate detail.
The Edwardian bathroom was plainer with a focus on hygiene and its predominately white coloured fittings and decor showed this.
Moreover, it's a cheap style to emulate as you don't need to tile the room!
Coloured bathroom suites became all the rage for most of the twentieth century, with white suites returning to favour in the 1990s.
Twenty-first century bathrooms have gone full circle with hotel-style luxury bathrooms with warm tiling and wooden features becoming a popular choice again.
Top tips for an authentic Edwardian bathroom
Eggshell paint
The Edwardian bathroom used oil paints for walls as distemper paint was not waterproof.
However, these tended to dull to a semi-gloss finish so eggshell paint is a good alternative.
I've previously used gloss paint in my bathroom and it shows every plaster imperfection and is impossible to 'touch up', so best avoid!
White is right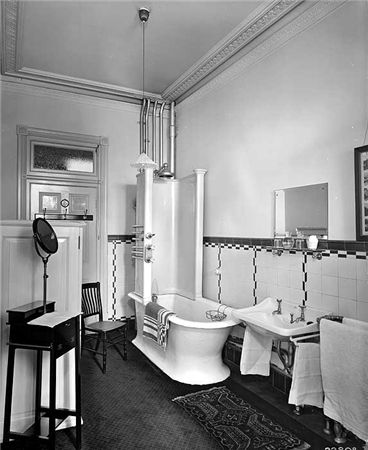 White walls and woodwork were common in the Edwardian bathroom as they looked clean and fresh and did not harbour dirt. This was important in a room where hygiene was vital.
Bright white paint was not available until the late 20th century. Therefore, opt for a grey-white or a pale cream colour, which are less harsh colours. See my house page for suggested colour references.
Don't be afraid to use the same paint for the walls, woodwork and fittings to reduce the need for time-consuming cutting-in!
Alternate colours
Paint a few features a light green or a cream if an all-white bathroom is too stark for you.
Sanitary iron fittings were available to buy ready-painted in a range of colours so this is an authentic touch if you want an 'as new' appearance.
Wooden fittings
Break up the white expanse with stained wooden fittings such as a polished toilet seat (the only option for a period bathroom!), a framed mirror and a period-style toilet-roll holder.
Make the most of original features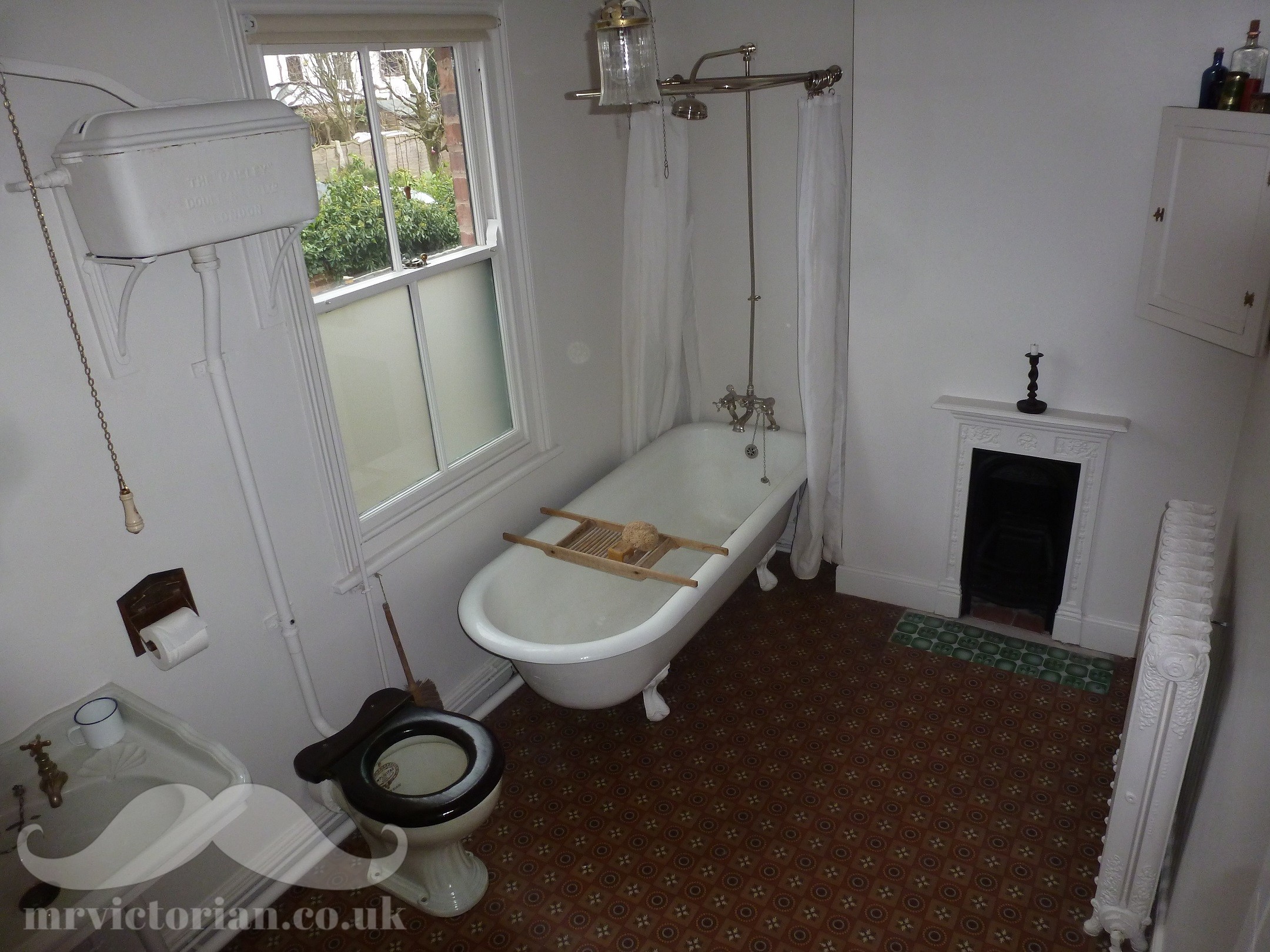 Most Victorian houses were not built with a bathroom. A small bedroom was converted for this purpose when funds became available.
It's likely this room would have retained a fireplace or perhaps a picture rail during this conversion.
Therefore, try to keep these features or reinstate them if lost to give extra character and allow the room's original use to remain evident.
Keep the windows low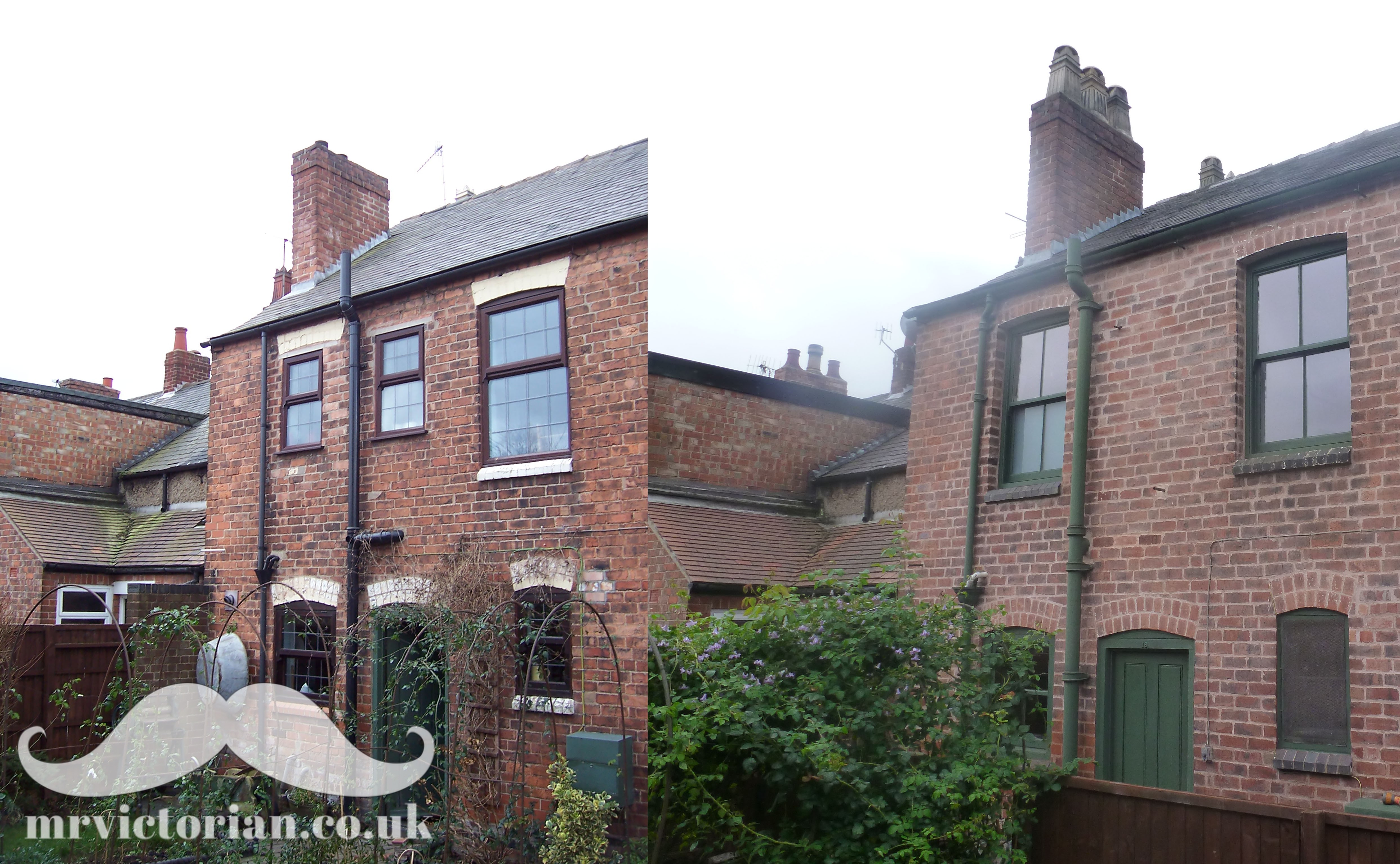 Modern homes have small bathroom windows at chest height for greater privacy.
Previous owners of my house thought it would look great to rip out the bathroom's original sash window and shove in two smaller plastic windows!
Don't be tempted to do this as you'll ruin your house's exterior appearance and you'll make the room darker!
I recommend installing frosted or etched glass in the bottom panels of a low window for privacy.
Be consistent with sanitaryware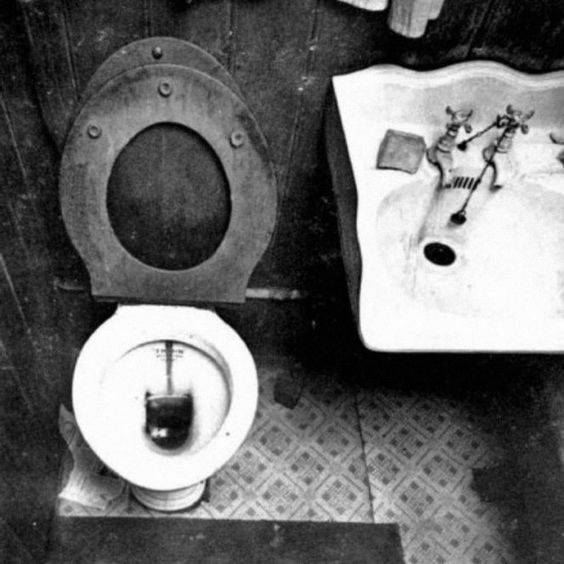 Whilst Edwardian homeowners may have purchased their bathroom suite from different suppliers as there wasn't today's showrooms, they aimed for a consistent look.
A white cut-corner 1930s sink will not sit well with a late-Victorian floral transfer-printed toilet bowl!
Most sinks of the 1900s were white with shell-shaped soap dishes and a simple iron stand. Likewise, Edwardian bathrooms often had toilet bowls with fluted detail around the base.
Cast iron baths had ornate eagle claw feet at this time. Art Deco-style angular bath feet became popular in the 1930s.
There are suppliers of authentic reproduction fittings but these are expensive.
I sourced antique Doultonware fittings from the 1900s for my bathroom over a period of time, mainly from Ebay.
You just need to keep a look out for a bargain fitting that's in good condition and is not too far to collect!
Alternatively, take a look at your local reclamation yard for antique and vintage fittings, many of which are listed on the Salvo website.
Let your flooring do the talking!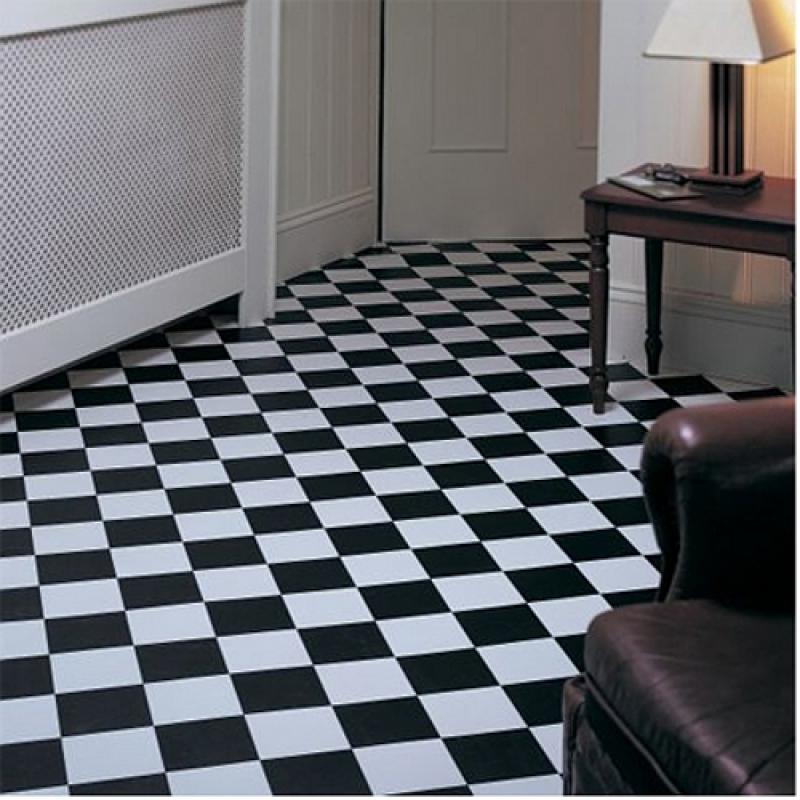 Patterned linoleum was the most sanitary option for a 1900s bathroom. Look out for vinyl flooring with geometric designs to brighten up the space as an alternative.
With plain white walls you have more design freedom with the pattern of the flooring.
I had a tiled design from a 1900s linoleum printed onto vinyl using Printed Space, which is practical and suits an Edwardian bathroom.
Please follow and like us: